Amazing Grace...
July 14, 2013
It's hard to find a place to start with something like this. I guess I should start with who I am, I am Morgan Danielle. I have amazing family and friends, people who, no matter the circumstance, have stood beside me and loved me through EVERYTHING. They, in themselves, are an outstanding blessing to have received. My ENTIRE life is full of incredible blessings, more than I deserve; I was blind to this for far too long. I walked in darkness afraid to open my eyes to something bigger, something far too beautiful for me to comprehend. The journey I took to find Christ was long and hard; much longer and harder than it needed to be, because our Lord reached out to me before, and all I had to do was take his hand and it would've saved a lot of people a lot of heart ache, but for some reason I just couldn't believe it was THAT easy.

Once Upon a Time, I thought, I was saved. I had asked God into my heart and except Christ as my Savior but never, not once did I act like I was a saved Christian. I strayed farther from God than ever. I became a terrible person: did thing I knew wouldn't glorify God, did things I knew were wrong. I became a person I couldn't even recognize in the mirror, of course on the outside I looked the same but I couldn't stand to see myself because I knew inside I was a decaying and rotting soul. The person I was, was a person I could never have imagined, a person no one wants to become. I picked up some bad habits, things that I never thought would be things I'd do. I fell into an anxious depression, and in those lonely nights where I thought no one was coming to save me, I would scream out: "Oh Lord, Please! Take this pain and give me something better! Make me better! Make me Whole! Please! I am CRYING OUT TO YOU!" After weeks and months of crying out in anguish to a God, I thought was refusing to end my pain and suffering. I began to take on suicidal thought, not willing to bare the pain any longer. As you see, though, even when I thought He wasn't, the Lord was working in mighty ways in my life, because I am still here.

The weeks dragged on and I finally one night after the absolute worst week of my entire life, was lying in bed and screamed out "God, you have left me all alone. You were never there and you have betrayed me! Forsaken me… God, if you do exist, and I highly doubt that you do now, because the God I read about wouldn't have left me and broken me, please I am begging you work in my life and show me you are still there!" The week to follow was full of hatred, bitterness, and cynicisms. I hated everyone and everything around me and just wanted to lie down and die without Christ in my heart. When Sunday came I prayed for ANYTHING to happen, for God to just speak to me and show me that He hadn't forsaken me but what I was given was much more than a simple sign of some ultimate being somewhere out there.

It was our first visit to Bible Baptist and I was so nervous or maybe it was just the Holy Spirit working within me. I listened closely and even the soloist's song seemed to break my heart down and I cried the way I should have a long time before. As I sat and listened to Pastor Watson preach my heart was moved, I felt like he knew EVERY SINGLE DETAIL of the past year of my life, like he knew every horrid secret inside of me haunting me like ghost that just wouldnt move on. He said something about how when we are reborn in the spirit we no longer have a past and EVERYTHING was FORGIVEN. I wondered if it were that simple, could forgiveness be that easy? That was the thought that had troubled me all along, was it so easy? And I realized it was! God forgave us because he loved us. Pastor Watson asked us to bow our heads, close our eyes and gave an invitation. I sat there in that seat, battling with myself! Battling with myself over whether or not I had been given proof God was there, proof God was even real. And that's when my heart SCREAMED out, "God if youre there give me the strength and the courage to except your son as my salvation." I lie to you, not, the next words from Pastor Watson's mouth were, "And God I just pray you give everyone the strength and courage to do what the Holy Ghost moves them to do."

In that exact moment I knew I had never been alone, that God was just proving to me how powerful he could be. Pastor Greg said at camp Thursday morning that "God Breaks us down to our most broken point in order to revive and resurrect us." And that is exactly what he did for me. I walked to the front of the church and accepted Christ as my Savior, and not because it was something to do, or not because I was afraid of Hell's fire, NO! I accepted Christ as my Savior because I knew, in that moment He gave his life for a lost wretch, like me so that I could be found. And that day God found me. He handed me a Road Map to life so that way I could never get lost again. Now, whether or not I always turn to that road map when I'm at cross-roads is up to me; and it is my prayer for myself that I can. If there is one thing I've learned from all this; It is that God is always there and he always has a plan, we just have to wait and see how it turns out. God truly is amazing and has truly gone out of his way to prove that he is there for me and loves me as I am. He has given my family a wonderful Church to be a part of, full of wonderful Christians to help me in my walk. He has given me the peace I have so long begged for, and has been working in wonderful ways in my life, directing me where he wants me to go.

No matter how many times Satan tries to push me down and break me down I will cry out with praise for the Lord that fixed a broken creature like me. I will get back up from my stumbling and sing out with a beautiful praise to a God so great who has saved and remade me, not only in the Spirit but in the flesh. After Friday's crash and a massive test put in my path today, I know that when I fully gave myself over to Christ, He fully gave Himself to me as well, protecting me and giving me comfort and peace of mind. I feel so blessed to have shared this with you and I hope you feel blessed knowing that Jesus Christ died for sins as well.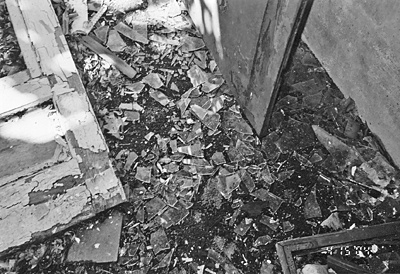 © Gary C., Pequannock, NJ