First Kiss
September 5, 2009
"Come closer" he says. I walk across the front porch moving lingeringly threw the summer night air. I stop to breathe it in. It fills me with an energy that crackles through my body jump-starting my heart. It beats loudly. I feel it in me as it throws itself against my chest. I feel its swelling pulse in my wrists and fingertips. I feel it in the bottom of my stomach.
I lean against the railing facing him but I can't look at him.
"Closer." His voice is deep and hoarse. I feel him scrutinizing me. He slides two fingers into a belt loop on either side of my hips and pulls me to him. I laugh and finally look up. He was smiling broadly down at me. He continues staring. Not wanting to be the first to look away but finding the tension unbearable i cannot help but to look down yet again. He unclasps a hand from behind my waist and lifts it to my face. As he did so it shook.

"I guess I'm more nervous than I thought I'd be" he says in that same low voice. He tilts my face towards his. His stare remains unbroken but the smile has vanished and a new intensity has overwhelmed his face. Then slowly, he kisses me.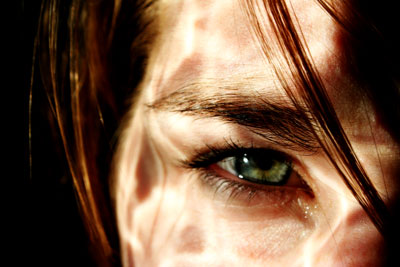 © Monica L., St. George, UT