Middle of no where CH#1
March 3, 2010
"Okay are you ready son?" asked my dad getting ready to go for our camping trip.


I said yes. We were going to camp at a lake that only a handful of people knew about. It

was paradise. The soft warm sand on the beach was the perfect place to throw a tent. The

water in the lake is clear and cool. We go to this special place once a year.


I went up to my room and started packing. I got a big back pack and packed pants

that where a dark blue. Also I packed some t- shirts, deodorant, and some other

essentials. After about thirty minutes we were ready to go. It was going to be a long

drive.


We got about fifty miles but then it was time for dinner. We bout a hotel room

and went to Arby's. We both slept good that night. Then the next morning we ate

quick and were backing a car on the road. On the way we had a driving maniac. He was

speeding. And whizzed right past us. The crazy speeding guy slowed down and

started following us. We were about a mile away from the lake and off road. He was still

following and me and dad were getting suspicious. Then I saw a glimpse of silver. It was

a gun! We sped up and he did too. BANG! A bullet blasted threw the back and front

window of the car. Another 5 rounds were shot. We sped up more. We turned sharp to

miss a tree by inches. We spun out and 7 foot cliff to the lake. We crashed on the sand.

My dad slammed his head on the dashboard. He was instantly killed by the impact. I

opened the door and planted my foot down once before falling to the ground hard. The

chaser hit the tree we avoided. He crashed out the window and into the lake sense he

wasn't wearing a seat belt. My mind went black as my head slammed the sand. I woke up

and the sun was peeking out at me rising. My body was like a brick I felt heavier when I

tried to get off the sand. I was standing it hit me. I was alone in the middle of the forest. I

had camping supplies but I was alone in the middle of no were. I limped to the car like I

had just walked out of a bar that I had been in for several days. I realized I was limping

and looked down at gash in my lower leg. A big blood stain made a majority of my blue

pants were stained red. I wobbled to the car and looked inside. My dad was sitting there

limp. I dragged my dad out of the car. Then I went around to the back and got a shovel. I

dug for hours and buried my dad. Like anyone I was grieving. I sat there in the sand my

mind off staring into space. I sat there for what seemed like hours. Night dragged on and

I slept in the car.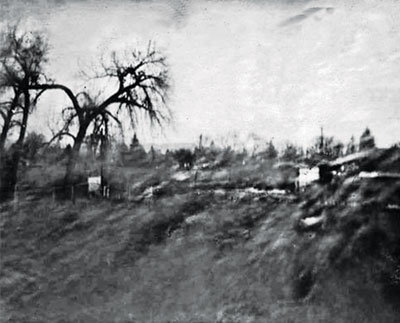 © Matt P., Monte Vista, CO