Shakespeare's Globe Young Academics
MAG
December 12, 2015
London: All my life, I've had a passion for literature. I've never been able to get quite enough of it. In particular, I've had a longstanding obsession with Shakespeare. The counselor at my school suggested I try to find summer courses to explore my passion further, and we started looking. Lots of universities had English literature or Shakespeare courses that sounded incredible, but I couldn't make up my mind. Eventually, however, we found the one: the Young Academics Summer School at Shakespeare's Globe in London. It sounded unbelievably perfect – London is my favorite city in the world, and where better to study Shakespeare than the Globe?
I was incredibly excited when I was accepted to the course (don't worry, the application process isn't difficult) and even more so when I arrived. The course was led by a wonderful drama professor from the University of Kent, and featured guest speakers and lecturers – a professor from the University of Westminster, a speech and text expert at the Globe, and a historical jig expert, just to name a few.
The activities were amazing. There was a guided tour of the Globe, fascinating lectures, a jig workshop, a Q&A session with an actor, and the chance to see two plays in the world-famous theatre.
What really set the course apart, however, was the chance to work with other students. There were 13 of us, and it was rewarding to discuss and study a subject I was passionate about with others who enjoyed it as much as I did. I was never the smartest person in the room, and I believe that that is the best way to learn. All our discussions were fun, informative, and supportive, and I made some great friends. Ideas came to life when the group discussed them, and our debates were equally lively.
As part of the course, we each had to choose a topic to research and then make a presentation. This was one of the most challenging aspects of the course. We had special permission to access the Globe's library and archives, which were an Aladdin's cave of literary treasures. Then we presented our projects to fellow course members, professors, and staff of the Globe.
I'd never undertaken such in-depth, independent research before, and it enabled me to be curious and creative in a way I'd never thought possible. We received feedback on our projects from professors, which gave us skills and insights for making similar presentations at the university level.
The facilities were incredible too. We had discounts at the Globe café, and – even better – the gift shop, where all us Shakespeare nerds went mad. The Globe is in Southwark, one of the most iconic areas of London, surrounded by shops, cafés, and restaurants, as well as landmarks such as Borough Market, the Tower Bridge, and Tate Modern gallery. The whole city is highly navigable: between walking, the London Underground, and the bus service, I never had to set foot in a car, despite my daily commute to-and-from Hampstead.
I would highly recommend this course to anyone interested in literature, whether you're a seasoned Shakespeare nerd or someone who's never studied his work but would like to. The course is less expensive, smaller, and more personal than many larger summer schools, but it was every bit as rewarding. This was, without a doubt one of the greatest weeks of my life!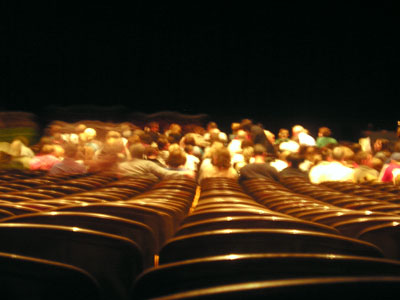 © Jessica P., Bethel Park, PA