Call of Duty World War 2 on Xbox, Playstation, PC
November 15, 2017
Thinking about buying a new game? Try out Call of Duty World War 2. This game is a brand new game and has brand new stuff unlike the past 4 games. You have new stuff in Campaign, Zombies and Multiplayer. This game is a lots of fun and it has me hooked.

Starting off with campaign. Campaign brings you a whole new look with the way you can interacts with your teammates. When you get kills there are a couple of bars on the side that start filling up depending on which characters you have with you at the time. They all have different abilities from health to a mortar bomb to a resupply kit or even a guy that spots all the enemies out for you. You bring back historical events like D-Day when you're fighting your way up the beach against the Germans while they are shooting at you in the bunkers with .50 Cal machine guns. The campaign isn't what I expected. It is different from the other games because you aren't just fighting off waves of enemies. You actually have to defend your tank or push the Germans out of the tunnel or even drag your injured teammate to cover so he can get healed. I am looking forward for the sequel. I would give the Campaign a 8/10 because it was a little short but the story was amazing.

Next up is the Multiplayer. Multiplayer is my favorite mode by far. This game has 10 prestiges. Which means you have to get to level 55 ten times. Then there are an addition 1000 levels after you reach that 10 prestige mark. They did this so their was always something you can earn and you never get tired of playing. Multiplayer brought in some new features and took out some features. The most surprising feature was divisions. Divisions is a system of where you can create a class to use in the game but if you pick a certain division you get special perks with it. For example, the Airborne class allows you to attach and detach a successor onto your weapon in the middle of a game. Each division has a max level of 4 and then you can prestige it to unlock a special weapon. In Call of Duty World War 2 Multiplayer they added a variety of weapons from a classic Tommy Gun to a shovel. The guns in this game are fairly balanced and aren't to powerful to where if you shoot first you will get the kill. Next up are the killstreaks. There are a variety of killstreaks in this game ranging from a bomb dropping out of its chamber in a plane to fighter pilot swooping down to shoot enemies. Last but not least is the many customization options you have. They added over 100+ calling cards. They have allowed you to create your own emblems. They allowed you to customize your character and they allowed you to put skins on your guns. Overall multiplayer is my favorite mode in this game. I would have to give it a 10/10 because they added everything everybody wanted especially boots on the ground.

Lastly is zombies mode. Zombies mode is a fan favorite that first was introduced in Call of Duty World at War. Call of Duty World War 2 Zombies is a terrifying co-operative mode that unleashes a frightening new horror story for Call of Duty zombies fans. Nothing is as it seems in this zombies horror, as a dark and sinister plot unfolds to unleash an invincible army of the dead. Zombies retains the wave-based survival mode that we have been used to in all previous Zombies entries, with brand new additions. A brand new class system is introduced, where players can between one of four combat roles: Offense, Control, Medic and Support, which provide different in-game abilities. Class loadouts are also included, with equippable Raven Mods, which are perks similar to the multiplayer mode. Sledgehammer Games also attempted to rationalize some of the popular mechanics, such as weapon wallbuys and currencies, with realistic explanation that fit within the lore of the game mode. Zombies includes a hint system, where portions of the main story quest are given directional hints for players to find and progress. In regards to the story quest, one of the developers of Zombies mode reveals that there is a "causal path" for new and casual players where they can progress with the story, while a "hardcore" path, which is considered the official canon, exists with hidden objectives, and expands more on the story beyond what the causal path contains. This Zombies mode is way different from others because it gives us a chance to have fun and to test stuff and not be forced to do one thing. I would rate this mode a 10/10 because all the details that they put into this mode are incredible.

Call of Duty World War 2 is an amazing game. If you are considering buying it just go to your local gamestop with 60 dollars. Make sure you have a system so you can play it and don't forget to buy batteries. Call of Duty World War 2 is the best game I played in awhile and deserves a 5 star rating.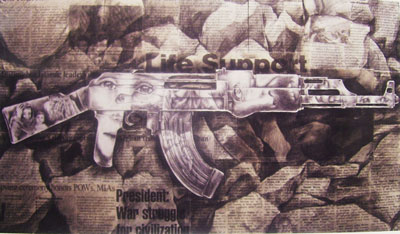 © Claire V., Lubbock, TX