Blockheads on Mobile
November 8, 2015
9.5/10

Concept and characters:
Building it's own legacy one block at a time! The Blockhead's has you take control of a randomly generated character into an expansive world. Here, in these worlds, you begin your decisive journey that holds unknown horrors and wonders. One probem from the start is ONLY having randomly generated characters. This means that you can't selectively choose what your Blockhead looks like. It would be nice if the player got to choose what they're character looked like instead of constantly mashing a randomization button for a possible desired look.

Gameplay:
While Minecraft has many inspired clones, Blockheads is not the same survival and crafting formula. While Blockheads does maintain that basic gameplay, it expands on it entirely. For starters, the genre is different. Blockheads is a two-dimensional, point and click simulation game. This makes the controls easy to handle for intense gamers to maintain in challenging situations, and just plainly simple for casual gamers to control. Instead of forcing a plate of new content to constantly feel as if it has to differentiate itself from Minecraft, Blockheads takes Minecraft's formula by the throat and advances on it wholely. Due to the previously mentioned expansive world, it makes resources sparse, forcing the player to explore in order to gain. To gain though, one must hunt and craft. While enemies in the game aren't zombies and such, Blockheads goes for a more fitting enemy roster such as sharks and wolves. Even realistic problems like weather, hunger, and exhaustion can end up becoming a concern. Hunting and crafting do combine. Hunting offers supplies from killing hostile and peaceful animals in an extensive crafting system. Gathering resources also consists of mining, destroying blocks, and collecting resources such as plants instead of just hunting. Blockheads provides a variety of crafting stations such as making pigments, clothing, and tools (just to name a few). This simple formula breathing new life will have players clambering for more. Despite the epicly complex gameplay, it does have a flaw. To obtain necessities such as more Blockheads, time crystals come into play. Time crystals allow the player to enact special actions. Though, obtaining them is a pain in the ass. Time Crystals, to be acquired, must be found and mined (which happens less to none) or buying them with real life currency. Forcing the player to purchase something that otherwise would be a perfect mechanic, is instead turned into a cheap way of earning cash. Despite the large single player, Blockheads also delivers a side of multiplayer fun. While normally games with large campaigns tend to suffer multiplayer wise (I'm looking at you Tomb Raider) Blockheads breaks that trend. It offers up to two player survival worlds and also an option to make or join servers that can hold an abundance of players. This decision was a great one because it adds more replay ability to an already large game.

Graphics:
Blockheads offers a diverse cast of settings that mesh with the crafting and weather system into one big, fantastic mix of graphics and gameplay.

Sounds:
While classical music is used, it is a bit spontaneous and ruins the mood of realistic sounds being used to represent a sense of danger or hard work.

Conclusion:
A previous review I worked on recently was a 3ds title by Wobbly Tooth called "The Magic Hammer." It, as well, was a game inspired by Minecraft. It captured the wonder of exploration and combat, but lacked varying locales and more focus on building. Blockheads captures the wonder of exploration, HAS varying locations, and has a great mix between action and building. While simulation is more of a casual genre, Blockheads makes sure it's intense as well. With its easy to handle controls and appealment to intense and casual players, Blockheads is for everyone.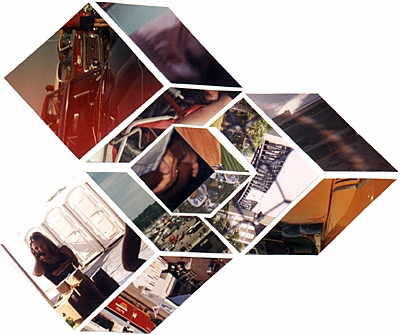 © Bryan S., Gladstone, MI