Californication by The Red Hot Chili Peppers
MAG
February 5, 2018
Believe it or not, "Californication," The Red Hot Chili Peppers' heavily ambitious seventh studio album, proves that the band DOES have a certain degree of maturity in their stride … along with the usual funk-laden suggestive teasings the group is so well-known for.

When The Red Hot Chili Peppers first formed in the 1980s, they put out albums like "Freaky Styley" and "The Uplift Mofo Party Plan," that brilliantly showcased their considerable talent but failed to crack the mainstream market. Then founding guitarist Hillel Slovak died from a heroin overdose, drummer Jack Irons left the band as a result, and the remaining members were left to carry out their work on their own. Ironically enough, it was only one album later (1989's "Mother's Milk") that finally caught the public's attention, and in the blink of an eye, the band signed onto a major record label. It was no surprise that when "Blood Sugar Sex Magik" hit stores only two years later, the critics raved about it and the public bought it in droves. In fact, it stands as their biggest-selling (and best) album to date. Unfortunately, their next album, "One Hot Minute," failed to live up to "Blood Sugar Sex Magik" and was panned by the critics. With that casting a shadow over their otherwise stellar reputation, everyone figured that the band's days were numbered. Luckily, the band quickly proved that misconception wrong with their vastly improved next album "Californication," which took four years straight to complete.

When I first had the pleasure to experience "Californication" in its entirety, I was pleasantly surprised at how straightforward the production was. The band certainly is talented, and they let you know that too in songs like "Around The World" and "Parallel Universe," both of which relentlessly pump the band's screaming guitar, Beastie Boy-style raps, and crooning vocals straight into your eardrums. I was also caught off-guard (in a good way) by the undeniable presence of songs like "Scar Tissue" and the title track, both of which showed a more serious, melodic side to the band. By so blatantly refusing to stick to just one style of music, RHCP masterfully takes the best of both worlds and shoves them into a single 56-minute disc, which is no easy feat for any band, believe me. However, they often do that at the expense of the album's consistency. So on one hand, you get gleeful lust-crazed frenzies like "Get On Top" and "I Like Dirt," but on the other, you get more contemplative, thoughtful melodies like "Otherside" and "Road Trippin," the latter of which would fit right in on your average folk music CD. Sometimes the music's tone literally changes from one track to the next. Despite all that, "Californication" still remains a solid listen, perfect for chilling out in your bedroom with after a long, hard day. Plan a trip today.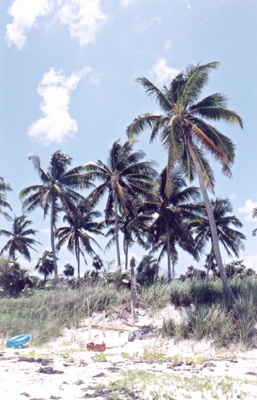 © Samantha D., Southbury, CT