Smash by The Offspring
February 15, 2019
The Offspring weren't the first pop-punk band to bust into the mid-90s' music scene, nor were they really the most accomplished. However, with Smash, they immediately established themselves as the most loud, aggressive, boisterous, and ultimately fun thing around.
With the exception of the occasional cheerily ironic spoken-word skit, Smash never relents from its speedy full-frontal punk attack even once; not even on massive hits such as "Come Out and Play" and "Self Esteem". This; along with often hilarious songwriting that raged about gangs ("Come Out and Play"), masochistic relationships ("Self Esteem"), road rage ("Bad Habit"), and teenage rebellion (the title track); made the album absolutely irresistible for angry teenagers everywhere. True, other pop-punk such as Green Day and Blink-182 made lots of money off of being ridiculously crude and juvenile; but while their albums were often coated with a noticeable pop-friendly polish; the Offspring used abrasive garage-esque production to effectively get their point across.
Whether it thrills, perplexes, or just plain annoys you, there's no denying the raw energy and passion the band put into Smash, which is exactly why it has stood the test of time and remained a lasting punk classic to this day; as well as the perfect thing to put on whenever you're seriously ticked off about something.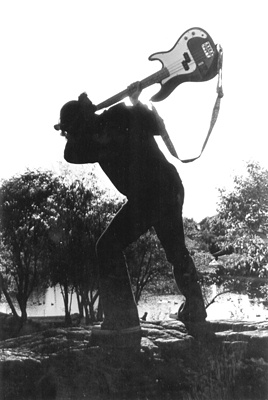 © Liz C., Marblehead, MA