Vampire Academy
February 8, 2014
Based on the wildly popular and best-selling "Vampire Academy" novel series by Richelle Mead, this new movie from the Weinstein Company, Director Mark Waters (of "Mean Girls" fame), and his brother and producer Daniel Waters (of "Heathers" fame), brings a refreshing look into the world of vampires.
While book fans were worried about such a comedic duo taking the helm of the movie based on the 2007 best-selling novel, "Vampire Academy," fans won't be disappointed with the result. This movie stars Zoey Deutch ("Beautiful Creatures" & "Ringer") as sexy dhampir--a half-human, half-vampire crossbreed--Rose Hathaway, who has sworn her life to protecting her friend, Lissa Dragomir, a moroi (mortal and soul-posessing vampire) Princess. Lissa, portrayed by Lucy Fry (of H2O fame), and Rose have a psychic bond, which calls for some awesome special effects by the filmmakers in some scenes, and allows for a special advantage for Guardian Rose. However, when Rose and Lissa are reluctantly dragged back to the titular St. Vladimir's Academy after a year of running away, Rose is quickly reminded that she was never officially assigned to guard Lissa and that she is just a novice, still in training at the Academy. Lissa's official Guardian comes in the form of sexy Russian dhampir God Dimitri Belikov, played by Russian film star Danila Kozlovsky ("Legenda No. 17" & "Dukhless" are just a few of his credits). Upon the best friends's reintegration into the Academy's atmosphere, Lissa quickly finds a rather surprising enemy in a girl named Mia Rinaldi, played by Sami Gayle, and an equally surprising friend in school outcast Christian Ozera, also known in real life as the gorgeous and talented Brit Dominic Sherwood. Also, as things progress, Rose starts to develop some intense--while unwelcome to her--feelings for her instructor and fellow Guardian, Dimitri.
The movie starts off right with great action as well as perfectly timed comedic relief by several of the movies snarky and sexy characters. The movie falls into a happy medium between an carbon copy book to movie adaptation and a great movie new fans will enjoy. The movie is unique in that the film centers not on a romantic relationship--though those are in good supply--but rather on the friendship of Lissa and Rose. The casting in this film is also sure to give movie fans and book fans something to talk about, as the actors portray the characters you've fallen in love with over and over again flawlessly while also bringing new traits to their characters you are sure to love.
So, whether you're looking for an action-packed thriller or comedy gold, a movie to see with your BF or a movie to see with your BFF, a movie to see as a die-hard fan of the popular book series or a movie to see that will make you a die-hard fan of the book series, this is a winner. "Vampire Academy" shines like a new penny, offering us a good look at how book to movie adaptations are meant to be made.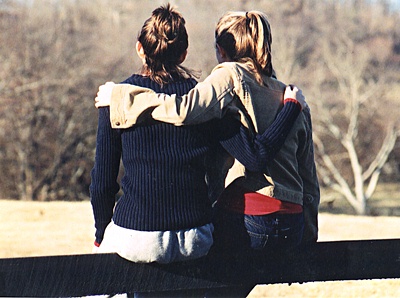 © Jaime M., Wichita Falls, TX