Lion
MAG
October 30, 2021
Director Garth Davis' feature-film debut "Lion" (2016) is a poignant drama based on the true story of an Indian boy who risks everything — first his safety and then his adopted family — to retrace his birth mother. It is adapted for the screen by Luke Davies from the novel A Long Way Home (2013) by Saroo Brierley and Larry Buttrose. The credits at the end of the film's lachrymose climax are bound to wrench a few tears from your eyes. The movie garnered exemplary critical acclaim and earned five BAFTA and six coveted Oscar nominations, including Best Picture in 2017.
The story begins in 1986 in the poor, remote village of Khandwa in Madhya Pradesh, India. A five-year-old Saroo lives with his single mother, baby sister, and his elder brother Guddu. One unfortunate night, he ends up all alone on a passenger train and wakes up in the bustling megacity of Kolkata, almost 1,000 miles from his home, where no one speaks his language. It is tragic to witness how he frantically searches for his mother in the most improbable locations. His endless screams fade into the dismal night as he seemingly drowns in an inconsiderate sea of commuters. Dodging scores of kidnappers and luckily escaping a cruel orphanage, Saroo somehow finds his way to an Australian couple (Nicole Kidman and David Wenham) who adopt him.
Garth's visual storytelling crafts a psychological comprehension of poverty and crime in our minds. His marvelous creative vision grants us a glimpse into the lives of underprivileged children. It serves as a metaphor for Saroo's anxious mental state – a lost child on a railway platform.
The adorably cute eight-year-old Sunny Pawar makes his cinematic debut with Lion. He nonchalantly delivers his performance with bone-chilling authenticity and mesmerizes the audience with his picture-perfect delineation. He carries the script's expeditious thrill on his shoulders through the first half and effortlessly evokes
our empathy.
Twenty years later – an adult Saroo (Dev Patel) grows incessantly curious about his birth mother and tries to trace his footsteps back to his Indian home through Google Earth. But his uncontainable spirit to reunite with his original family pushes him into an emotional breakdown again. He struggles to maintain his relationship with his girlfriend, Lucy (Rooney Mara), and his adopted family. The story's profound philosophical conflict is the theme of "love vs. love."
Saroo feels an impending urge to travel back home. His dilemma defines his character as an amalgamation of joy and grief. It entraps him in an estranged corner of his mind, forcing him to question his own identity and accept his past. Throughout the film, he craves a reunion with his birth family — an impractical goal that haunts him. We feel second-hand exasperation from his failures and melancholic seclusion.
"Lion" is more than a film about a missing kid looking for his mom. It is a vividly emotional roller-coaster centered on the pressing quest for truth and identity enshrouded in the traumatic past. An inevitable reality that many adopted people must embrace storms Saroo's personality and destroys his tranquility.
The screenplay's Oscar nomination may seem overrated to some of us, because unlike Saroo's train, the story chugs to a sterile halt in the middle. The film is not devoid of flaws. It is easy to notice how it temporarily forgets its own story and forces the audience to experience its theme once it realizes its mistake. The scenes appear hollow, and the instinctive bond with the protagonist may feel constrained. One of the most explicit examples of this is the character of Lucy.
In her minor role, Mara dazzles as Saroo's girlfriend. It is soothing to see how she lends romantic support to an emotionally torn Saroo. But that is pretty much it. She struggles to fit into the core narrative and acts like a sideline cheerleader to the show. The story does not do justice to this exceptionally talented Oscar-winning actress; nor does it bother to conclude her character arc. It treats her like a clichéd trope of an unrelated love interest. Consequently, Lucy feels more like an excessive load that seems too heavy to drag into the denouement phase.
Nevertheless, the film's ending is heartbreaking and heartwarming at the same time. It intoxicates the audience with a refreshingly unique catharsis and subverts all genre expectations. The entire tale feels like an interwoven patchwork of hope and hopelessness. Davies' script mingles these two contrasting virtues and creates the most brilliant moments of the movie. It is one of the few stories made that have delved so deep into the psychic realm of adoption from a child's perspective. This uniquely bold narrative makes "Lion" an unforgettable experience.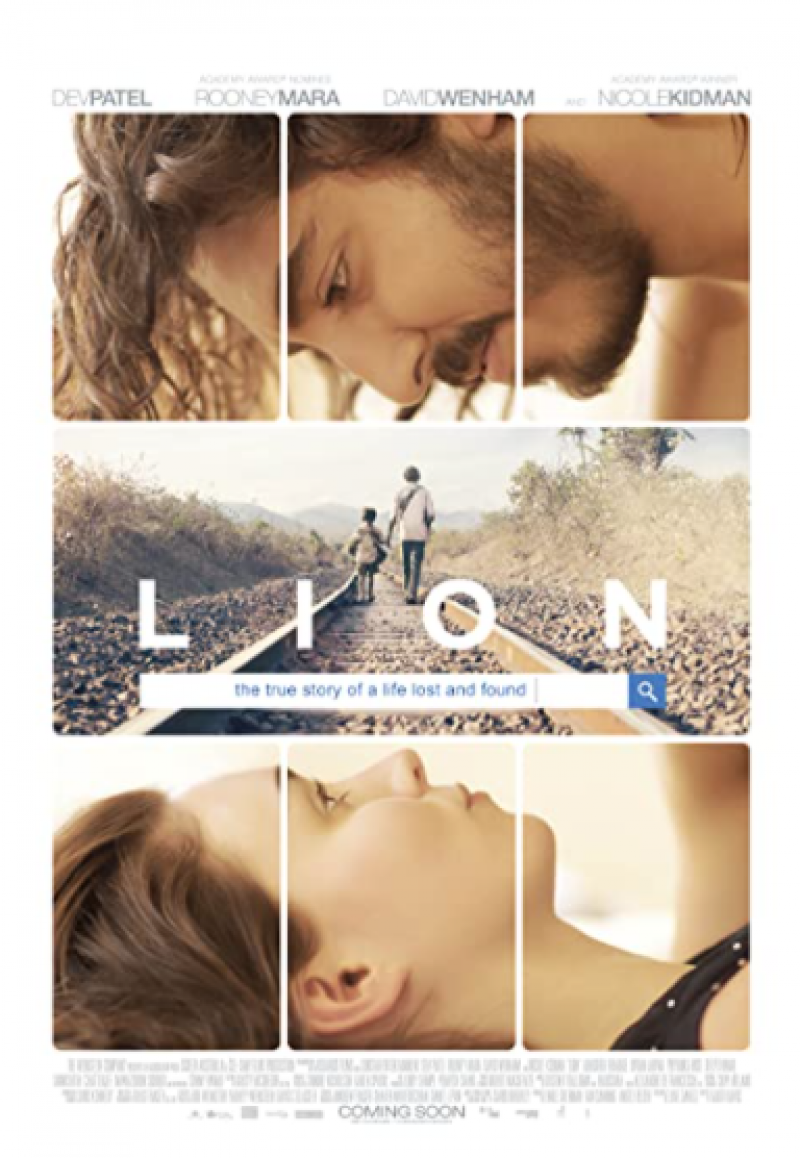 © Riddhiman R., Ahmedabad, Other