Mirage
May 7, 2019
Durante la Tormenta (Mirage) is an incredible thriller, time-traveling movie. It is the perfect movie to enjoy on a Saturday night on your couch with popcorn. I really like the way the plot develops and surprisingly, I am not the only one who enjoys it; it has a score of 7.5 in the Internet Movie Database (IMDb) and 97% of Google users like it. It was released in Spain on November 30, 2018, but it became famous when it was broadcasted on Netflix in 2019.
The movie takes us to November 9th, 1989, where a 12-year-old boy named Nico, is passionate about videotaping himself playing the guitar and lives only with his single mother, Maria. During this night, a 72-hour storm begins. Nico was alone in his house working on one of his tapes when he witnessed an aggressive fight in his neighbor's house, Angelo Prietos. Nico decided to investigate what was happening. When he entered the house, he found Hila Weiss, Prieto's wife, dead on the floor. Prietos discovered the presence of Nico, who was desperate to escape and ran in the street where a car hit him. 25 years later, on the same day, November 9th, 2014, the storm happened again. We meet Vera Roy a woman who has dedicated time to her job as a nurse and to her family, her husband David Ortiz and her little daughter Gloria. They have just moved to a new house and they have decided to make dinner and invite their friend Aina Medina and his mother, Clara. The dinner had a change when Vera and David discovered from their friend Aina that they had moved to Nico's house and that Pritos had been arrested. After dinner, Vera was unpacking and in a closet, she found Nico's analog TV and his camera. Vera connected it and when she turned it on, the storm connected the two timelines as one, allowing Vera to talk to Nico and prevent him from the car accident. The TV turned off and Vera woke at the hospital in a parallel timeline. She has just 72 hours until the storm disappears and...
Something that makes the movie successful is the plot. A plot that does not allow you to take your eyes off the screen. This movie is different from other time travel movies where you have to remember the main key events from the beginning to end to understand it. Because of having a change between two parallel lines, it shows us a Vera that still remembers her life as before the change, making her search for answers in a place where she wouldn't find them. The suspense that the movie makes you feel is unique; it makes you want more to find out what is going to happen next.
The movie focuses on Vera Roy and this characteristic allows us to be more connected with her. I really admire the way Adriana Ugarte(Vera Roy) plays in the movie. She has really put herself in the role and the way she expresses herself and her capacity to project Vera is fabulous. The movie also has the collaboration of famous actors, like Álvaro Morte known for his role in La Casa de Papel as the Professor. He has the role of Vera's husband and even though he has a secondary role, he still makes a great performance. Another actor is Chino Darín, an Argentinian actor that we can recognize as Ramón Peralta from the thriller/mystery movie The Angel. It was my first time seeing him on the screen and I notice that he was in his role, too
The movie is set in a storming, cloudy environment that creates a perfect setting. We can also see many references to the connection between the storm and the change in timelines. In the end, the movie makes a change in the set, bright beautiful weather that marked the end. This gives a better understanding to the viewer about the emotions that the movie wants to show.
In conclusion, the movie is a great example of hard work and dedication. The effort that the production has put on it makes it an incredible piece of art that you would enjoy to watch and admire every little detail that highlight this movie from others.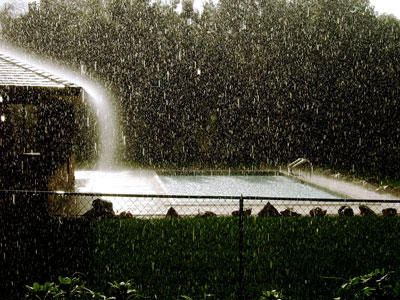 © Chelsea C., Auburndale, FL