Hush,Hush by Becca Fitzpatrick
MAG
February 27, 2018
Nora Grey is living a normal teenage life until mysterious and handsome Patch becomes her new biology partner. Despite not knowing if she can trust a stranger, Nora finds herself falling in love with him. In the 2009 New York Times bestseller, Hush, Hush by Becca Fitzpatrick, it's a battle of emotions as Nora Grey starts to hang out with fallen angels and battle Nephilim, while still making time for her best friend, Vee Sky.

Thoughts and feelings are a huge part of this book. The romance between Patch and Nora makes a reader love both of them. The friendship between Nora and Vee makes the reader a friend of both. Fitzpatrick develops the characters well. Vee is a funny, loving, loyal, best friend. Patch is a sweet, handsome, mysterious guy who has a lot of secrets. Nora is a smart, tough girl who tries her best to be nice to everyone, even though it's sometimes hard.

The theme of this book is love and sacrifice. Nora learns that with love, you have to sacrifice things to help the other person. She has to give up her normal life to help Patch with his battles. The sensory description brings this book to life, enabling readers to see Patch's wing scars, the farm house, and Nora's friends.

Fitzpatrick's novel invites the reader in with a quick jump into the action and ties the book together in the end, leaving the reader craving the next novel in the saga, Crescendo.
Readers who need to feel connected to the characters will love this book because Fitzpatrick brings the characters to life. Anyone who loves a fast, action-packed, paranormal romance novel will love Hush, Hush.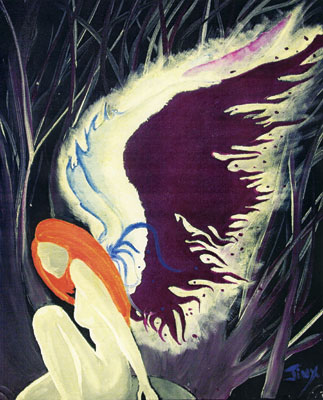 © Megan B., Youngstown, OH