The House on Mango Street Book Review
July 8, 2018
"The House on Mango Street" by Sandra Cisneros is a coming of age novel that showcases many themes such as language and names, gender and sexuality, foreignness and society, identity and autonomy, and dreams and beauty. I think people should read this novel because it has a strong message of growing up as well as showing the struggles of being a Mexican-American woman.
This novel is basically about what Esperanza, one of the main characters, experiences while living in her new house on Mango Street located in a poor, mostly Latino neighborhood. Another main character would be Sally. She has a physically abusive father and ends up marrying a man that won't let her see any of her friends or leave the house. Because of this, Esperanza feels protective of her. Throughout the course of the novel, you get to see how mature Esperanza becomes throughout the year. You also get to see her making friends to enduring sexual assault.
In the beginning of the novel, Esperanza moves into a new house on Mango Street. Then, Cathy befriends Esperanza but their friendship is cut short since her family moves away from Esperanza's neighborhood. Toward the middle of the novel, a bum offers to pay Rachel a dollar if she were to give him a kiss. In the middle of the novel, an old man kisses Esperanza on her first day at work without her consent because he said it was his birthday and he wanted a birthday kiss. Then Geraldo, a Mexican man who Marin meets at a dance, is killed in an car accident the same night that Marin meets him and the authorities don't seem to care. Esperanza is humiliated after trying to protect Sally from the group of boys that took her keys. After that happens, Esperanza was then raped at the monkey garden by one of the boys while all the other guys watch. Sally then gets married to a man before she enters the eighth grade. At the end of the novel, Esperanza promises to always come back to Mango Street.
There are many things that I like and dislike about this novel. One of the things I disliked about the novel is the fact that all of the chapters are extremely short. Since the chapters are very short, the topic of discussion changes every one to four pages. For instance, the chapter "Those Who Don't" is only one page but the writing only covers half a page in length which is not a lot to read about. But other than that I really enjoyed reading the book. Some of the things I liked about the book is that you get to see what it was like to live in the center of poverty and violence. You got to experience what it is like in their shoes. It shows this when it states, "Here there is too much sadness and not enough sky. Butterflies too are few and so are flowers and most things that are beautiful. Still, we take what we can get and make the best of it."
All together, "The House on Mango Street" by Sandra Cisneros is a novel I would recommend readers to read. It gives you a chance to observe what it is like to live in an environment of poverty and violence.This novel showcases many themes and messages that every reader can either relate to or learn from. In conclusion, this novel is one I would recommend everyone to read at least once in their lifetime.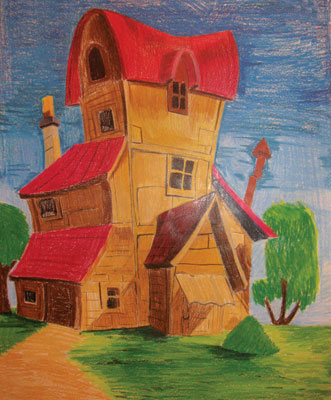 © Ronald W., Sherman Oaks, CA