Serial
June 7, 2019
You should listen to serial, it's not only a gripping true crime mystery, but it also gives your brain another option to open up and entertain yourself. The podcast called Serial was released December 18, 2014.
Sarah Koenig is a famous podcaster which she hosted the nonfiction famous award winning investigative podcast Serial which isn't the greatest murder mystery you'll ever hear it also isn't like any other podcast. It comes with twists which have you confused. For the past year, Sarah has been looking at an old, cold murder case. In 1999, in Baltimore, a young woman called Hae Min Lee went missing. After a few weeks, her body was found in Leakin Park. Hae is a highschool student that was "allegedly" murdered by her ex boyfriend Adnan. Although after 15 years being in prison he still claims his innocence. But I won't say anymore because I want you to listen to the podcast to know the ending.
Serial will drag you to continue to listen to more because it's straightforward. With Serial people will assume just because they protest their innocence and with all the evidence it's just easy to say if someone's innocent or not. Serial isn't clear cut maybe because its real life and people don't exactly remember what happened 15 years ago. Sarah herself flip-flops between thinking that Syed did commit murder and being convinced that he didn't. Later in a episode Syed asks Sarah why is she still bothering his case which was interesting. Sarah purposely put all the evidence in a certain order so it can be uneasy for us to solve.
"Serial" is a interesting podcast to listen to it makes you feel like your in the podcast solving the investigation and deciding who you think it was and who wasn't, it's a well crafted mystery. Prepare yourself to listen to this confusing but interesting case.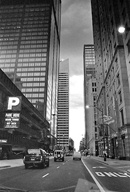 © Alexandra K., Chicago, IL