The Way People Treat Me
June 12, 2009
Ok, so you probably seen me around. (Or not.) If you haven't seen me, let me clue you in as to who I am. I'll give you three clues. Number 1: I am the dorky teenager clad in last season's clothes. Who indecently wants to make it in the fashion world. 2: I am usually the person slumped in the front of the class room with my dumb blond hair in my face and my glasses on the verge of sliding off my sweaty pimply nose, and 3: I am the girl that nobody sees. You are now going to have the pleasure of hearing some of my problems. Since you said this essay should only be five paragraphs I don't have the space to tell you all of them, if I did I would have to write a novel. Normally this would not be a problem but since I was up all night eating sugar and drooling over Edward in the hit new movie Twilight I don't really have the energy.



As I have already mentioned I wear glasses and that is a problem. It might not be such a big deal if my scratched glasses ( which I put in a case every night thank you very much) could correct my vision to the normal standard people expect. But alas that is not the case. Also glasses give people the mistaken impression I am smart. Which I am so not. If you believe I am then I'll ask you this- why am I failing Science and scraping by in German?


People are not very nice about the whole visually impaired thing. For one thing people like to call me four eyes or a nerd. For another it's something I can't change in my life and those sorts of problems do not seem to agree with me. Most people don't know how to deal with disabilities of any kind. So they seem to do one of three things. Ignore me (which contributes to me being virtually invisible around school) or make rude comments. Or lastly they ask me a bunch of nosy questions about what it's like, and honestly HOW do they expect me to answer. Because guess what it's not really that simple. I mean can you describe being sighted to a blind or visually impaired person?




However some people are very nice about it. For instance my one of my best friends named Kay. She has been my best friend since the 3rd grade and barely seems to notice it.. There was also the time 2 summers ago that I went to camp T, which is a camp for the blind and the visually impaired. ( oh and by the way this fabulous camp that is on the verge of extinction due to financial issues. If you would like to know more just Google camp T and the web site should come up). It was truly a moving experience to discover that some kids are worse off (visually) then me. For instance my ex-boyfriend (who I am still not over) was totally blind. Yet he was very hot. We had more in common then I could have possibly imagined. Like our musical taste. It was almost identical at that point except for the fact he know way more bands then I did. Then there was C who was also blind but is still one of my best friends to this day. She is patient and understanding, best of all she knows how to make other people feel better. There was also Maya who is one of the funniest people I have ever met. I just wish I could give something back to the camp that helped me grow so much as an individual.



How did I resolve this situation? (you asked that on your cold blue rubric you handed to us on Friday) Well there is really not much I can do to resolve this situation. I have had two surgeries on my eyes and they could not make it better. I try to stay positive about my vision and most of all I try to let people's nasty comments roll off my back.
Maybe one day I will get there. From this situation I learned it is important to stay positive. (and yes I am still working on that) I also discover that it is important to try to view any disability as a positive on occasion. Now you may be wondering if I am crazy saying that it can be viewed as an advantage. But it can. For instance I get out of gym class because of my low vision. So you see it's not so bad. Sometimes.


I am very grateful to my family (and my measly 3 friends) for supporting me thought the surgeries and the plethora of problems I have in my life. I only wish I could be as supportive to my family as they are to me. Maybe one day I will get there. It does not seem like it now. Even though things are a little grim in my life I know that it will get better. It already is. For instance this summer (if I get in, I really hope I do) I will be going to a 4 day a week program at FIT (fashion institute of technology) that is specifically for teenagers. I have been interested in fashion design ever since I was a little girl. Some people say I can't be a fashion designer because of my visual impairment. But guess what? I am going to prove them all wrong!!!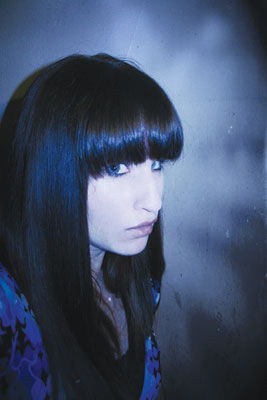 © Anonymous