Center Stage
December 2, 2014
"Learning to walk set you free. Learning to dance gives you the greatest freedom of all: to express with your whole self the person you are," said Melissa Hayden, an actress from the song and dance troupe The Young Americans. Words cannot describe how I feel about dance. Words cannot describe the art of dance. Dancing is such an indispensable part of my life, and I hope to make others understand why.

I began my first year of dance when I was three years old. Because I was so young, dance didn't mean much to me. In fact, I really didn't care for it. The studio I attended was Dance Explosion in New Richmond, Wisconsin, thirty minutes from Amery. Thirty minutes can be tough on little ones. Meaning, I would always fall asleep on the drive there, and not want to get up when we arrived. I made it to the end of the season, but all of those sleepy days took a toll on my performing skills. At my very first recital when we had to go off stage, I started going off the wrong way. When I realized it, I turned around and stared running the other way. I was the only one left on stage, running back and forth. It was without a doubt, my best recital ever.

To prevent me from being an unhappy little dancer, my mom enrolled me ina dance company, here in Amery. I loved it! I got to dance with my best friend, practice gymnastic moves, and twirl a baton. How much better could it get? It was all fun until third grade when I realized I was ready for bigger, more challenging things. I danced there for four years, until fourth grade when I started going to Dance Explosion again.

My first year back at Dance Explosion I took hip-hop. I loved it, but it wasn't enough. So, the next year I took up pom pons as well. During class we would show our dances to the competition classes. One day after we had performed our dance, a couple of girls from the competition class came over to me and told me I should join competition. Hearing that made my night. To be noticed and complimented in dance is one of the greatest feelings I have ever had. My next year of dance I joined four competition classes. Hip-hop, pom pons, lyrical, and production. I continued to move up and improved from there. Two years later, I joined competition tap and jazz, and was standing front and center for every dance. This was my biggest accomplishment.

One particular dance that stands out for me, is also the dance that made me realize my hard work really was paying off. Seventh grade year my hip-hop class danced to Party Rock Anthem. I started out the dance in the second row, then transitioned to the first row. One week my teacher told us that we would be getting into a pyramid for our next formation. I was extremely nervous the whole following week, awaiting my position. The next week as we were all at the back of the room waiting for our name to be called, the teacher called my name first, for the point of the pyramid. I could hardly contain my excitement. Since that day, settling for less is never an option.

Every sport has similarities. Everyone has a goal to accomplish. That goal is to work your hardest, and be the best you can. Many people argue it, but dance is just as much a sport as football or baseball. You practice, and push harder until you break. You compete and strive to win. You work as an individual, and a team. In dance, you practice outside of practice to improve yourself. In practice, you help others perfect a move to strengthen the group. Commitment is the key to success in any sport.

My parents tell my brother and me to always give one-hundred and ten percent; that is exactly what I do. From the moment my first class starts to the moment my last class ends, I give it my all. I feel tired, I feel sick, and I feel like my heart is going to beat out of my chest. In order to get the results I want, and the position I want, I have to deserve it. Dancing is hard work, but I love it. Many dancers don't like to push themselves to the point of exhaustion, but that's what makes me feel good. When I look like I've just been rained on, I know I'm doing something right. I don't dance for something to do, I dance because it does something for me. It enables me to express life in a way not many people can. It is unique. I can put all my emotions into a series of movements, not just to perform, but to move a crowd. When the music plays, I dance. I don't dance for anyone else, I dance for myself. Dance is my passion, and true passion never fades.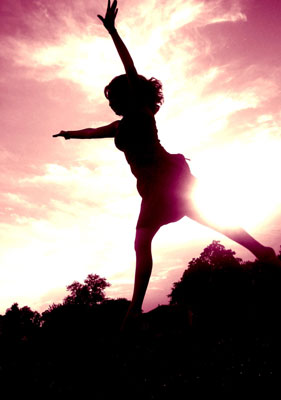 © Martha V., Morton Grove, IL