Is Cheerleading a Sport?
August 2, 2012
I first picked up a pair of pom poms in the eighth grade. Ever since then it has been one of my favorite sports and things to do. Yes, I said sport. Some people say that it should not be considered a sport. Some do. I stand with the latter, of course. Cheerleading is something that requires hard work, spirit, energy, and teamwork.

We work just as hard as other athletes. Practices are held for two hours twice a week, plus tumbling for two hours once a week, where we condition, stunt, and tumble. It takes a lot of strength to be able to hold a girl in a stunt, throw her up into the air, and catch her. We condition and practice a lot to be able to do what we do.

Cheerleading can be compared to gymnastics, something that the majority of people agree on as a sport. Many squads require a girl to be able to throw a round off or even a back handspring to be able to make the squad. College squads often require back handsprings, back tucks, or a combination of many gymnastic skills into a tumbling pass.

Competition squads and school squads that compete train possibly even harder, especially All-Star squads. The squads that make it to Nationals often have complicated stunt pyramids, synchronized team tumbling, and complex solo tumbling. Skills like this can take weeks or longer to perfect in order for it to look clean and hit every time.

Cheerleading is not just a uniform and looking pretty. We work hard to represent our school well and support our other sports teams. Conditioning and practice for the next year before the first one even ends, or just after. Practice goes through summer; with maybe a week off after camp is finished. We have a lot of fun while working hard, working through the soreness and getting better with every practice.

Some people may disagree, but cheerleaders work hard, and deserve to have their activity considered a sport.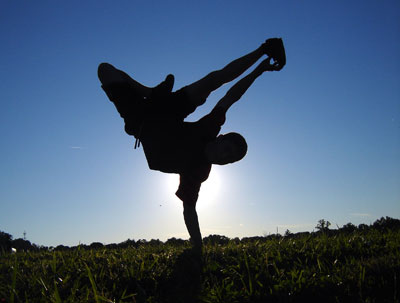 © Seita O., Louisville, KY