Team Sports...Eh
June 25, 2010
Everyone has played some type of sport in their life, whether it be a scrimmage during gym class or play-for-the-win tournament, but continuing with organized team sports in high school is a giant commitment. I have been on basketball, soccer, softball, and swimming teams since I can remember. I just finished my sophomore year on the volleyball and basketball teams. Yeah, it was all fun and games back when playgrounds were the bomb and your parents were still cool.
What's that, little Johnny? You're tired? Here, take a break on the bench, have an ice pop!
But now comes high school. Can't wait for all the new friends, awesome parties, and… sports every day? Now some people love staying in school past dinner time, sweating buckets, and barely having any time for anything else. My opinion? Eh. Not the biggest fan of having a life revolving around basketball and volleyball. And when I say a life revolving around sports, it's not an exaggeration. Before school is in session in September, we have volleyball preseason. Here, we get to have the thrill of barfing up breakfast and not being able to sit on the toilet the next day without feeling the pain of our sore bodies. Once school starts, we stay on campus until around 7pm, the school day ending at 3pm. Practice on Saturdays, bright and early. The occasional all-weekend tournament. As soon as volleyball season ends, basketball preseason commences with nonstop running and conditioning. Basketball/fatigue/soreness/we-know-you-have-no-other-interests-or-goals-in-life-to-wase-your-time-with season starts and ends with bang. Not getting home until 9pm from away games in the middle of nowhere is not uncommon. My favorite part? We are forced by our coaches to have team bonding activities on school nights. Yes, we all agree that the team dinners and such are fun because we all like each other and have enjoy each other's company, but we also all agree that they are really not necessary when all of our time is already dedicated to the team. I often like to be in bed by 9pm, but that rarely happens during the season. Honors and AP classes? Relaxing? Recreation? Friends? Family? Health? Life? Psh, basketball is obviously more important than all of those things combined. Oh wait, did I say basketball season ends with a bang? Silly me. Basketball. Season. Never. Ends. Last game of the year—boo hoo, sad times, whatever will we do… then spring season? Yes, four games per weekend to be exact. Who needs a social life when you can have basketball? Not me! Oh yeah, there are also practices and games towards the end of the school year when we have final exams, and during the summer. I don't play another school sport during the spring because basketball is so overwhelming and a good break from it is really nice, even if that break is interrupted by the weekend games. But sometimes I wish I could play lacrosse, something I tried and loved in camp. But I just can't handle another season of every-day sports. I don't think I can do it mentally, but physically would also be a problem.
Having been noticeably larger than my female (and male) friends from a very young age, my body basically grew faster than my bones can handle. I have pains in many of my joints when I play, and recently, I have been having back issues. My chiropractor said I just need to take a break. I'm still young and my body doesn't like what I'm doing to it. He brought up a good point once: the coaches do not care. Sure, they're nice people and don't necessarily try to cause you permanent pain, but the sport comes before your health. They want to win and prove that they are good coaches.
Why do you want to take a break!?! It's just blood, for God's sake! You can't feel your face!?!Get back in the game or I'll put the freshman in for you!
My coach wasn't too happy when I told him that I needed to take a break from basketball because of my back pain, but at this point, I have learned to think about myself first. I don't want to have chronic pains all over my body when I'm 20.
And another thing… I'm getting surgery to remove a cyst in my neck the week before the team is going to a sleep away basketball camp. I told my coach about how I will not be able to attend, and he didn't understand why I wouldn't be able to play. Seriously? You try getting smacked around under the basket with a giant swollen lump on your neck and constant headaches.
This is why I love snowboarding. The sport has so much freedom. Do whatever you want, at any pace you want, whenever you want. And there aren't coaches or teammates that are depending on you to achieve something at a certain time. Unfortunately for me, basketball is played during the winter season, so I only get to go out on the mountain once a week (if I'm lucky). If I lived closer to Mountain Creek, I would quit basketball in a heartbeat to go shredding every day after school. Then I might have a chance of getting somewhere in the sport. I mean, I might be able to do something with snowboarding in my future, but my parents won't drive me an hour every day round trip for a "maybe." And sticking with school sports for all four years of high school looks good for college… but so does being a major sponsored snowboarder…
Ugh. I don't know. I can't just quit now when everyone I know is expecting me to give it all I got to the sport I'm supposed to love. But it's not like I'll be playing team sports once I'm out of school. Snowboarding I hope to do for the rest of my life (if my back doesn't stop me). But I guess I'll have time for that after high school. Oh well.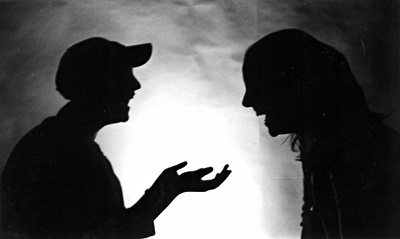 © Jeff A., Marblehead, MA