The World Needs A Hero
April 2, 2013
The world needs a hero, it's waiting with bloody wounds for a savior. Those who deny the truth of this statement have met their first folly. They believe in a lie, in the lie that this world is all there is and that there is no higher Evil, nor any higher Good. So they simply do not believe that there is a problem.


This problem is Evil. Evil lives in secret places. It likes to don the beautiful guise of Lust, Gluttony, and Vanity. It likes to acquire treasure to placate its Greed. Well all this is well and good, until the ones who suffer for it cry out to the One Who Saves. And then God help the poor wretch who thought he was worth a thousand starving children.


The world needs a hero. It hasn't always been this way. Once you could walk alone at night without fearing the dark. The dark existed, but it did not have a name yet. And then along came doubt, the root of it all. Doubt of what? Precisely. Doubt of what indeed? After all, there is not question, there is no problem, there is no God.


So why do I cry out to a mute, deaf, maimed god? Surely He must be so, if He were real. Surely what I'm feeling—pain, rage, loss—cannot be a result of a loving God. Surely if He were real He would care enough to take it away. So I do not believe in a higher Good. And it follows that there is no higher Evil.


There is no higher Evil. The suffering I see around me is just the result of losing the Game. Survival of the fittest. Who is the fittest? Is there truly One who does not suffer? Is there a Fittest Of Us All? Evolution says there is. My Bible says there is. But I do not believe in the Bible. So I believe you cannot know the Truth. You cannot know why there is suffering, there just IS.


There's no problem if there is no Cause. There's no solution if there is no Problem.


Except that if there is no problem, why do we search for an answer? Pray tell, where does suffering come from? It is inherent, as the world would tell us? Surely it comes from somewhere. Does not a newborn live in bliss before it is born into the world? So how is it that the moment it's born it comes into the world screaming? Screaming for what?


WHAT ARE WE SCREAMING FOR?


The world has, and always will be, screaming for a Savior. Maybe we need to stop screaming and look around for once. He came. He saw our suffering. He killed Evil itself, but to do that, He had to suffer as well. He looked Death in the face and lived to tell the tale. The one thing all succumb to, he defeated. He truly is the Fittest Of Us All.


So you see, there really is no Problem. Death is a lie. There is only the Solution.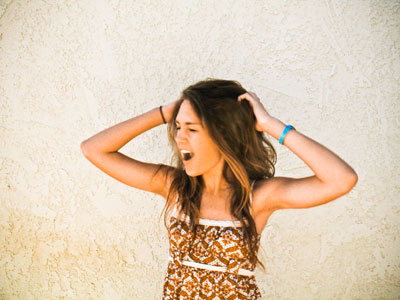 © Summer Q., Dana Point, CA