He Just Does
February 27, 2013
I believe in God. Not the phenomenal, cosmic being but the simple notion of a Father who loves me despite my fears and failures.

This past summer, I attended a Christian camp and was a little bummed because I was doubtful of god and did not want people that I didn't know shoving religion down my throat.

But one day, He decided that I had strayed away from Him for sixteen years too long, and reached out to me to let me know that He cares.

We had just finished electives, things like archery or swimming, and I had hung back to ask my counselor, Jenna, a quick question about my performance Friday, when rain began to fall rapidly from the charcoal sky and thunder and lightning caused the camp director to tell everyone to stay put until further notice.

It was like God had specifically thrown this curveball because He knew that Jenna and I would never had sought out each other to talk any another way.

She told me to tell her my story but, I wasn't sure how much I could tell this stranger, afraid she would flip it to her view of the matter and try to change me.

But, I spoke anyways.

With tears dampening my vision, I told her that my biological father had left me at age five and how that had caused me to struggle with abandonment issues. I found myself spilling words about my step-father abusing me and how, when it became too much and I felt like I had no control, I turned to self-harm and found it hard to trust anybody.

By this point, we were both crying relentlessly and Jenna asked me what my view of God was. I answered her honestly, telling her I believed, but I wasn't sure how God could love someone like me, someone who doesn't deserve it.

"He just does." She said and quoted scripture that has stuck with me since then:
2 Corinthians 12:9- "For He said, 'My grace is sufficient for you, my power is perfect in weakness.'"

That day, I began a relationship with a man who loves me for my weaknesses. A man that, if I ever abandon him, will never leave me.

That day, I found my Dad and even if I can't comprehend why He loves me, He just does. This I believe.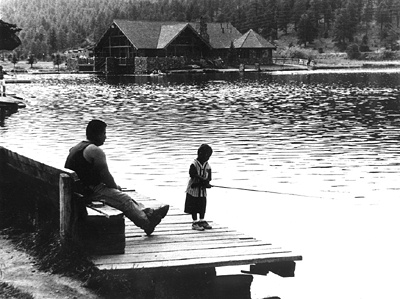 © Ryan P., Greenwood Village, CO