Happiness Beats God.
February 22, 2010
The Oxford dictionary is wrong: atheism is not the belief that God does not exist; it is the lack of belief in God. For me I am an atheist the same way I am an a-fairyist and an a-Santa-Clausist. I shouldn't even have to say it. The fact that I do have to tell people at all is strange. I'm the one with the non-belief, why is it always me who has to explain myself to your belief?

You don't have to understand it. You could think I'm wrong, though 95 percent of the time the arguments Christians present me with are erroneous and show a complete lack of understanding about evolution, the big bang theory, or even religion itself. (And trying to argue creationism makes me barf a little in my mouth, to be honest.) But here's the big question: why are you arguing with me at all? I'm atheist. Big whoopdeedoo. I'm not going around bashing Christianity (unless one is chiefly talking about Church corruption and not belief), and I don't even try to argue my side unless you intentionally provoke me with a nonsensical debate I can't help debunking. I respect your belief, so why can't you respect my non-belief? Please. Don't pray for me. Don't 'understand' me and then condescendingly tell me I'm going to hell, which I don't believe in either.

For me, religion, or even the lack of religion, is not a big deal. I can survive. I can be moral. I can be happy, and yes, I can be fulfilled. If you need God, if you believe in Jesus – by all means, go ahead. I'm not stopping you, nor am I trying to stop you. But the patronising way many Christians regard atheists is unbearable. If you're not one of them, I love you. Think I'm wrong all you like. Just don't say it to my face and don't try to convert me. I can be your neighbour, I can help you, I can love you without believing in what is for me a fairytale. (And, quite frankly, if you believe I'm an ignorant fool who doesn't know anything about religion, then I am atheist all the more. How can I believe in something without understanding it? I don't understand it and couldn't understand it anymore than you can understand why I'm atheist. Besides, more than likely you hardly understand anything about it either, and was just brought up to believe. Which is fine, just don't try to preach your ignorance at me in a condescending way, it kills me.)

I am not confused. It is true, I cannot prove to you God does not exist anymore than you can prove to me he does. You can try, if you like. But you won't succeed anymore than I would in doing the opposite. Hell, (By Jove, cheesy pun intended!) it doesn't even matter to me if God really, really, really exists or not. I have never felt a higher divine being somewhere up there. I have never felt I needed someone to talk to, to rely on, to believe in. I have never needed God, and I never will. I always felt stupid when my mother told me to pray, because I never truly believed anyone was listening. My logic tells me I couldn't believe in God even if I wanted to. As for what created the universe, there are many theories, but I don't care. I'm just trying to live. Without God.

Why? Because all that is necessary for me is my self-belief. I work hard and trust in my own abilities. I don't need help from God, and I get myself through hard times by relying on myself, my family and my friends, all of whom are 100 percent real, tangible people. I create my own future, and my own past. I set myself my own challenges, or life does. And I get through it because I'm strong. Sometimes it is lonely. Sometimes it is hard. This is life, people. Life is not easy, but I am determined to make something of it with my own hands, because it is precious and only comes once. What more, I make my own accountability. I suffer the consequences of what I do, but it's alright because everything is my own choice, my own decision. I do all this without the need to believe. For me, God is not truth. Happiness is. I can be happy without God, and that is true.

If you need to, if you want to, if you were brought up to believe, if you were converted: then believe. It is your choice. Just like atheism is mine, though to be honest it is more a natural state of mind than a conscious choice. Don't hate me for it; it won't do you any favours in the literal or divine sense. Why be so defensive if you 'know' you're right? Class me as a loony bin, I'm a pretty happy one, thanks. I prefer to spend my life enjoying the physical, tangible world we call life than chasing phantoms neither you nor I can prove is real. Even inexhaustible philosophical questions like "Who am I" are more interesting to me than the question of God. At least I know that the metaphysical human identity exists for sure, whatever it is.

Life is beautiful, and so is love. This is something everyone can agree on and believe in. Life is sometimes simpler than you think. Instead of the pursuit of God, I choose to make my path the pursuit of happiness. This is what I believe.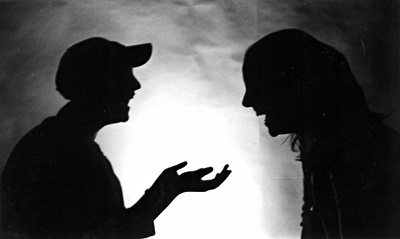 © Jeff A., Marblehead, MA