Leadership Is More Important Than You Think
December 17, 2018
Youth leadership is the practice of teens exercising authority over themselves and others. We see many young people struggle in different areas. Some of those struggles can be public speaking, having a hard time trusting the people around them and too scared to come out and step up for something that can be greater than themselves. How can we break this cycle? Joan Of Arc turned a war around at the age of 17, The Marquis de Lafayette was only 19 years old when he sailed from France to help the British North American colonies win their freedom and we got a 14 year old, Romanian gymnast being the first one to score a perfect 10.0 in 1976 Summer Olympics.

Making up 13% percent of the population, though the youth can not do everything, youth can do something. Youth can contribute in taking some weight off of adults shoulders by carrying some burdens with them. The youngs can serve to re-energize adults and break typical stereotypes that adults have in their minds. Not many older leaders are fond of this idea but according to Shepherd Zeldin, responsible for writing The Psychology and Practice of Youth-Adult Partnership: Bridging Generations for Youth Development and Community Change, has expressed how "Every youth has potential to be a leader." and he goes deeper in explaining how firstly, adults must realize that youth should start having more practice in developing skills and must understand that a youth's mindset and an elder's mindset on leadership can develop differently.

Confidence for some comes naturally and for the rest it comes torturously slow. One of the amazing gifts that comes from youth leadership is confidence. The sooner you start, the better you get. Youth leadership is the access code to confidence, whether it be public speaking, giving out instructions or engaging with the people around you. I remember the first time I lead a huddle. A huddle is when a group of people huddle up in a circle and you give them that "Hooray!" to pump your team up for the day. I had been practicing my huddle for an entire month, arranging my words, emphasizing my words, projecting my voice to make sure I did not sound like a robot. Still, that day I had my huddle, my hands were shaking a lot. Yet, as the months went by, huddles became easier. I did not think twice in leading my huddle, I jumped right to it because I had knew ideas to speak of at my huddles, knew excitement, knew confidence. The more excited I got, the more engaging my team became.

Everyone has preferences. When you have a preference, you tend to like or prefer one thing over another thing. One of the challenges that youths face with a lot is setting aside their own preferences when it comes to what they personally want. With youth leadership brought to the table, youths will understand more what it is to make sacrifices. In other words, youths will be able to distinguish between what they prefer for the people they're leading and what the people they're leading actually need. King Solomon said it best, "Where there is no vision, the people perish". In order for youth to have a vision- a goal for the people they're leading, it will start by making a sacrifice. The younger they start, the more intentional they'll be in everything they do and they will have a better understanding as to what making a sacrifice means.

Being a leader can change a youth's life around. I started off as a volunteer, as I believe everyone does. All I had was a passion for the team I was a part of, I had high respect for my leader, everything my leader threw my way, I was so ready to take charge of it and she noticed that! Disregarding my age, she saw that I was getting too comfortable where I was and I needed an upgrade. My attitude changed for the positive, I understood a deeper level of what the heart behind leadership was, I got to meet new people who I learned more than two things from, my mind was more opened to new ideas, more people relied on me and I definitely got a lot more busier.

With that being said, youths have a lot potential that is yet to be unlocked. Many are waiting for a chance to prove something, many just don't know they can make an impact. Most, importantly, despite what other negative things elders may think about youth leadership, there is one area where we all youths have them beat: Youths can reach out to the ones that elders can't or don't care to reach out to- more youths.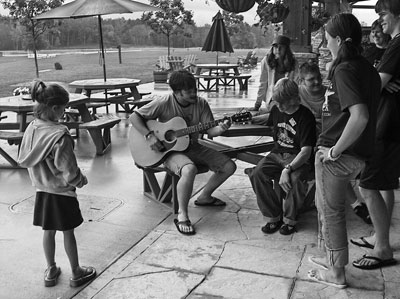 © Sean C., Princeton, IL