The Definition of "Smart"
June 27, 2013
It was in a car. That was when I had a mini epiphany.
My mother's friend had three small kids, the oldest of which was five. They were charming little kids, with an affinity for marshmallows and Ritz crackers. I offered to babysit them for a day while my mom's friend ran some errands. They were sweet kids.

So my mom's friend, the mother of the children I had just finished babysitting, offered to drive me home. I gratefully accepted, and we all climbed into the car.

The mother was Nigerian, with a thick accent, and a tendency to hug me. I called her "Aunty", as Nigerian children were expected to do to their parents' friends.

"Mommy, I want to start a band."

That's what the little five year old said from the backseat. A seemingly harmless wish that made me smile slightly. But her mother was livid.

"A band? A band?"

The mother went on to explain that her daughter was never going to start a band. She leaned back in the driver seat and described her whole daughter's life: Her daughter was going to finish high school, go to college, and get a degree in college, and then get a master's degree in graduate school. Then her daughter was going to get a well-paying job. "Just like your dad," The mom finished. "Just talk to Ade, she's going into high school."

I gulped down my opinion and smiled weakly from the passenger seat back at a desolate five year old who just had her dreams crushed by her own mother.

I tried to ignore it, but that simple conversation in the car between a mother and her child haunted me for days. I couldn't understand why a mother would say something like that to a five year old. Not let a small child explore her interests and curiosities, and instead dictate her whole life out to her like she was a robot instead of a human being.

That's just the Nigerian view. "You have to know long division by first grade. You must get into college and become either a doctor of a lawyer, and earn a good salary. A career as an actor or a musician is unacceptable."

I had always gotten long lectures from both my mom and my dad—both born and raised in Nigeria—about the importance of school, and learning, and math and science. It was hard, as a kid who has always wanted to be an actress. I remember sitting at the kitchen table, my mom asking me what I wanted to be when I grow up, and me telling her I wanted to be an actress. She laughed. She actually sat back and laughed, and then explained to me why I wasn't going to be an actress, and why I was going to go to a good college and get a practical job.

But something inside of me snapped when I heard that mom telling her little kid that she couldn't start a band. That math and science were the only ways to fufill your life, because frankly, it's not true. Think about it. You can't expect every single person on the planet to be good and math and/or science. It simply doesn't make sense.

For example, I have this friend who is just absolutely terrible at math. I'm not even being mean, because she is the first person to admit how horrible she is at it. And she has this deep rooted belief that not being good at math makes her stupid. Meanwhile, she is the best artist I have ever met. She can do things with a pencil and a piece of paper that I could never dream of doing, and yet society views her as stupid for not being good at math.

And I could see this mother in her car with her little five year old, instilling this same set of values into the future of America, and it made me sad. It made me incredibly sad, because this little girl was learning at a young age that it wasn't right to do what you love. Her mother was teaching her that the way to happiness was getting a good job, and earning a good salary, but that's not true.

Take my friend. She could probably struggle along in math, and go to college and get a degree, and become an engineer that worked with numbers all day. She would look at a nice framed degree hanging on her office wall every day, she would earn a good salary and be able to buy herself nice things, and she would be utterly miserable.

To risk sounding like a shallow teenager—you only live once. YOLO. Do what you love, not what makes you the biggest paycheck. As Americans, we have to learn to stop using the word 'smart' as something that defines people that are good at math, and science. Instead of beating down the arts, we should embrace them. Recognize the vast range of talents that the human race possesses, and appreciate each one with the same appreciation we give people who are good at math.

I want that five year old to grow up in a world where she can start a band and be called smart at the same time. Where artists and poets aren't looked upon as slackers, but as visionaries, and the arts gets just as much respect as the sciences do.

That, to me, is a perfect world.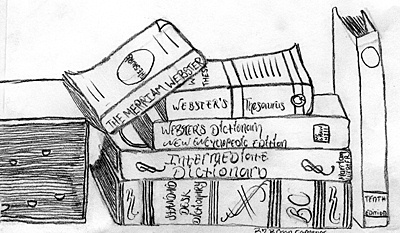 © Bryan C., Lovelock, NV