Blowing Rainbow Bubbles: Pro-Gay Parenting
February 21, 2013
Picture this – your classic family picnic. A blanket basks in the shadows of a looming oak. Foods adorn the checkered fabric, ants scurry on over to sneak a bite or two. Prancing in a sea of dancing grass, a little girl exhales imagination into a soap-soaked bubble wand. Capturing images of her glee with winking cameras, her moms – press pause. Right there. Now, spill. Were you suddenly enlivened with joy? Or were you immediately glowering with rage?

Neither would be surprising, for gay parenting has been a heated topic of modern society, with both sides spitting fireballs left and right. Should LGBTQ (Lesbian, Gay, Bisexual, Transgender, Questioning) people be allowed to take on the challenges of parenthood?

Of course they should – the raw facts even support this ever-strengthening stance.


Take for example the studies that have been done over same-sex versus opposite-sex parenting. The vast majority of these studies have shown that that little girl described above will end up just as successful – just as stable – whether she has two mommies, two daddies, or one of each. One study has even refuted the common idea (and sad fear) that gay parents will only raise gay children. It's worth asking – do straight parents only raise straight children?

Can you say "double standard"?

Also, even if the two women down the street were to nurture two gay boys, where is the problem in that? I pose this question because one study examining lesbians as parents has shown that their children would be more open to pursuing a gay relationship, yet not necessarily more likely to identify as gay in the future. This is important to bring up, because a teen should be open to several different romantic/sexual experiences – it's better she finds out she likes girls as a teen than after she's gotten sucked into a heterosexual marriage coupled with children made by misled love. If that happens, you're looking at a truly stressed family dynamic. Picture a divorce, hurt and confused kids…that's what you get when you don't allow a child to be open to a diversity of options during the peak of their self-discovery – adolescence.

Speaking of teen-hood, teens with LGBTQ parents have described feeling more connected within a school environment – which, as a teen yourself, you probably think is key to surviving high school. Education now on the mind, we can ask a question – are teens with gay parents equal to their other peers in terms of learning ability and grade point average? The answer to that question would be yes, as a study has confirmed. Also, these teens are more likely to discuss things that may be troubling them. Surely, some of you can only dream of doing this – what if you had had a better chance of being raised to speak out? What if you were to give this chance to over a million future children?

Moving along, do you see tolerance as something that should be abundant in today's world? Well, here comes another proven benefit of same-sex parenting – their children are often more tolerant of diversity, and, taking it a step further, more open-minded. Isn't this what we want? Social progress? Why, progress only comes along with people willingly contorting their perspectives. With that, you need to add a bit of compassion into the mix, for compassion is what drives the desire for change in the first place. Yep, you guessed it – children of same-sex parents are also more likely to have this compassion ingrained within. Once change is wanted, and enough people have opened their minds to it, you then need to actually make the change you've been craving. So, ready to fuse a little resilience in? Tap into the hearts of same-sex partners and their kids for a hearty amount of that too.

"But these poor, poor children plagued with progressiveness! Labeled as outcasts, most surely!" Ah, your view can definitely be understood, but science itself has stepped in to prove you wrong. In terms of being alienated, children with same-sex parents do not deal with this on a worse scale than their other peers. We're all deemed outsiders to an extent – it just so happens that children with gay parents may be labeled because of their parents' love. But if it weren't their parents' homosexuality, it'd be something else causing them to feel isolated.

LGBTQ parenting may come along with its own unique battles, but everyone's packaged with some sort of toil all their own (for good reason too – conquering adversity brings strength). If same-sex parents were unfit for raising children, you wouldn't have some highly influential establishments in the country condoning their parenting. The American Psychological Association, the American Academy of Pediatrics, the National Association of Social Workers, and the American Bar Association have all publicized acceptance of gay people as parents – how can you argue with that?

Still unconvinced? Look at it this way. With struggle comes need for support, correct? Fortunately, support for same-sex parents and their families is growing at a swift rate nowadays. Children of Lesbians and Gays Everywhere (COLAGE), a support organization for LGBTQ-based families, has now established chapters in 28 states (over halfway there!). Another group, the Family Pride Coalition, has dozens of local organizations under its belt, and boasts statistics of having doubled its herd of members and volunteers to 17,000 people in only the past five years. Additionally, a nice assortment of vacation companies is now handing out packages specifically catering to same-sex parents and their kiddos. The world is changing; the LGBTQ network is evolving and connecting at an electrifying new level.

This being said, it's time to give these people and their families a chance. It's time to further open up adoption opportunities. It's time to legalize marriage for same-sex couples all across the board in order to provide their kids with greater stability. It's time to erase stigma. It's time for not only tolerance, but acceptance.

Now, rewind a bit and press play, delving into the world of the little girl and her moms, the true stars of this piece.


Capturing images of her glee with winking cameras, her moms giggle. They let their cameras fall to the grasses, open their arms so wide they could engulf the billow-blotted sky. Their little girl joyfully rushes into their embrace, and you can feel the love in their triangle of a hug. The sun showers rays of adoration upon them – because it knows that their love is valid, all gender aside.


It knows what really makes a family.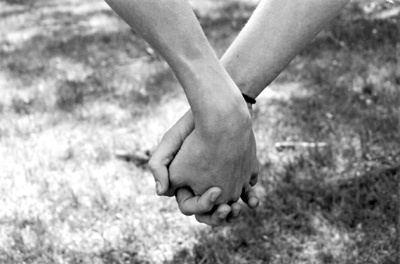 © Alexa T., Pompton Plains, NJ