She's So Beautiful...Not!
July 16, 2010
A supermodel in a black cocktail dress with long blond hair and a frown plastered to her face walks down the catwalk with a swagger. Her bright red Gucci purse glimmers with sequins, and her matching lipstick makes her pout even more pronounced. "She's so beautiful!" You and your friends gaze in awe as her seven inch stilettos beat the ground to the rhythmic tune. Her eyes stare straight ahead as she struts her final lap around the stage before turning. With a flip of her perfectly styled hair, she is gone.
Later, when you arrive home with your best friend, you discuss how perfect that blond model was. Oh, how you wish you could be her! A six foot tall, stylish, size zero blond! Wouldn't it be great to be her? Your friend nods, a look of reverence on her face as she ponders what she would do if she was that perfect. But really, how perfect was that model, anyway? You don't know her. You don't know her personality, her intelligence level, what she does for fun, or what she does with all her money. You don't know the first thing about her.
Although people may look beautiful, that does not necessarily mean that they are. A person, who may look good on the outside, may really be the devil in disguise. Beauty today is used in a physical sense. It is used to describe hair, clothes, body type, and etcetera. What it really should be used to depict, however, is the character of a person. The people who volunteer their time at the fire department or at a soup kitchen should be considered more "beautiful" than all of the selfish populace parading around in glamour with their bleached hair and surgically-enhanced cleavage.
In the world today, beauty should not be used as a word to describe a person's outer appearance, but rather to describe a person's good deeds and overall personality. You cannot know if a person has this kind of beauty just by looking at them. Supermodels may look good, but it is what is on the inside that is truly beautiful. So, get to know someone before you are sure you can truly call them beautiful.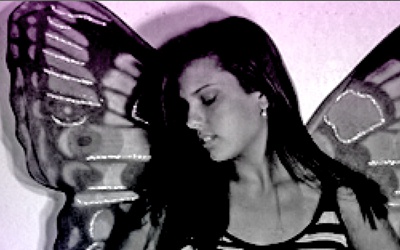 © Kathleen M., Rowlett, TX