Can you live on less than $1.90 a day?
November 12, 2021
Imagine that you don't have any food to eat today or that you do not have a toilet at your home. Imagine if you had to live on less than $1.90 per day… These might seem like impossible realities. I mean, no one can possible live on less than $1.90! Sadly, these scenarios are not imaginary and many children, teenagers and adults live these harsh realities.
Poverty is a serious problem that affects millions of lives throughout the globe. You can find it everywhere. When you walk on a street, you have probably seen homeless people or children working and begging for a couple of pennies. Some countries might have a higher rate than others, but poverty is found in all regions. Everyone is aware that poverty should be addressed, we constantly hear that companies donate and nations agree to send foreign aid to the poorest countries. But is the U.S. government doing enough to eliminate global poverty?
Yes, it's true that the United States donates the most money to other nations (millions of dollars) but compared to the yearly income it receives, it is low. Let me put it this way, out of all of the United States' budget, less than 1% of the cake goes to helping poor countries. Can you imagine how many people would benefit if the percentage was higher? More people would be able to eat 3 times a day, more children would go to school instead of getting married at a young age, and more people would be able to use a bathroom for the first time in their lives.
Is the U.S. government doing enough already? I leave the choice to you…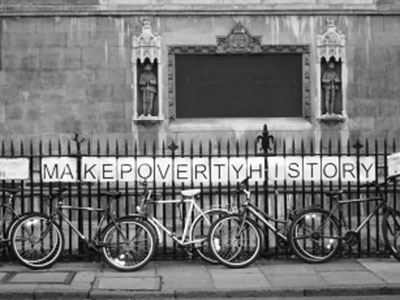 © Katherine S., Agoura Hills, CA