Students Should be Able to Eat Outside
October 25, 2013
Have you ever felt as if you had to get something across, like it was the most important thing in the world but no one listened? That's how we students feel, it has been two yeas sense we moved to the new building and still no one has even tried to fix this issue. The school cafeteria is horribly crowded and the food is almost just as bad causing lots of stress in students when lunch time is meant to help us relax and give us a break. Here are many, many reasons as to why I feel we should be allowed to eat outside the cafeteria, or even outside of the school itself. I have done my research, and believe now that the situation needs to be changed.

The cafeteria, to some kids it is the marker saying they have finally entered the huge new world called high school. Or at least that is how it should be, but our lunch room is way over crowded. People have to sit practically on top of each other, and it gets really hot in there during the summer. The fact that now school lunches have been made "healthy" really seems to mean that they taste worse and are more expensive, that means a lot of kids skip lunch or even sometimes get sick from the food that is prepared. That stresses people out even more, and makes it even more uncomfortable in the lunch room, lunch is break time, a time to relax. So why are we forced to feel so tired and stressed during this block?

How do I know all this? How am I sure that students really feel crowded in the cafeteria? It's because I have felt it all myself and more. The first day I walked into hat cafeteria, I was in shock, there was nowhere to sit, I ended up standing next to the table my friends were at and eating an apple. When I walked around I went to different tables asking if I could sit down, and I got answers like "someone's sitting here", "this seats taken", and "no seniors only get out of here freshman", can you see how that makes people feel? I felt like I was nothing o the school, the gym can hold more people than the cafeteria, what's more important, Sports and athletes, or our basic human needs?

There are hundreds of students in the school that need to eat in this school, but why was the cafeteria built so small? You say that we can fit 12-16 people at each table, but in reality we have students who are overweight, and underweight, hey need either more or less room then you calculated, in reality we can only comfortably fit 8 people at each table the rest of us are squished together, or standing next to the table eating out of their hands instead of from a tray on the table. Don't you see how bad that really is? Should we no get to eat somewhere else?

Yes, there could be complications from letting kids leave school to eat, we know that, that is why we are willing to deal with the consequences of doing something wrong, a sort of three strikes your pout type of setup. The 1st time you skip school, or do anything inappropriate like that you can't eat outside for a week, 2nd strike a month, 3rd you are no longer allowed to go out that year. Sound acceptable to you yet? I think it should, the daily American newspaper aggress too, authors here say "Students should have an allotted time to return to school grounds, and be punished accordingly if they do not return at that time." What do you think? I believe this could really work if we worked together, and if it doesn't how about eating out in the main hallway if we don't want to sit in the calf?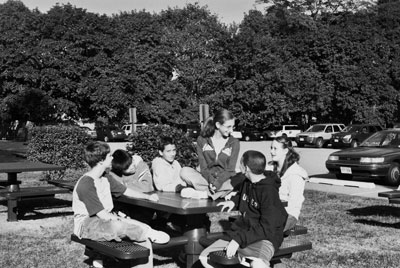 © Caitlin F., Pequannock, NJ