The Starbucks Effect
August 3, 2012
I'm sitting with an overpriced coffee on the outside patio of Starbucks, the only calm place where I don't feel like a rock in the stream of people. Inside, customers from all walks of life tap their polished shoes against the reclaimed wood floors—they impatiently wait behind a gaggle of teenage girls for their 2:30 caffeine fix. Once they reach the cash register, they rattle their order off so fast they're like a different species. A smiling "barista" (Barista? Really? They're glorified re-caffeinators) scrawls the order on the cup and slips into the bustle to make it. A final squirt of whipped cream on top and the re-caffeinator slides the drink across a faux-rustic wood counter to the eager consumer.

These customers carry their overly sweet drinks to a cozy table for two or a large, comfy chair—two furniture choices that amplify the café's relaxed vibe. The hipster writers who make up the majority of customers pull out their sleek Macbook Airs plastered with "Save the Environment" and tap out their latest idea (obviously fueled by the Starbucks coffee). When their non-prescription glasses begin to slip down the bridges of their perky noses, they push them back into place and continue typing, the graying keys clacking noisily.

I honestly don't understand the hipster-Starbucks phenomenon. Aren't hipsters supposed to support local coffee shops? Starbucks is a multi-million dollar industry. But after yuppies, who supported Starbucks wholeheartedly, died off, Starbucks tried to live on vicariously through the yuppies' children: the hipster generation. Hipsters like things that are worn out. Starbucks' tables are chipped and scratched. Hipsters like to save the environment and whatnot. Everything at Starbucks is somewhat eco-friendly. The hipsterness that is Starbucks is only a façade—real hipsters wouldn't go and support such a wealthy business. The genuine hipsters are curled up in the Milkboy café down the street, a café with Open Mic Nights and actually decent coffee.

News flash: I'm not a hipster! Starbucks coffee doesn't have any magical effect on me. I mean, it's McDonald's coffee, but in a paper cup that's made from 75% compostable materials. So how does Starbucks keep its cult-like following? Do we feel more like people and less like customers when "baristas" scribble our names on our cups? Is it more exotic to order a "grande" or a "venti" drink instead of the plain-Jane "medium" or "large"? It's probably because everyone (hipsters included) loves free Wi-Fi. Or maybe the coffee's drugged. Well, whatever it is, Starbucks has wormed its way into our malleable, brainwashed minds and has us twisted around its corporate finger.

So step on up, America. Your "barista" is ready to take your order.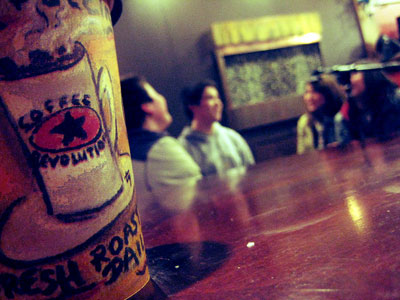 © Seita O., Palatine, IL