I Love(d) Twilight
July 23, 2010
Let it be stated right away: I used to love Twilight. Stephenie Meyer's writing had me hooked from the start. I went to Barnes and Noble for the release of Breaking Dawn. I obsessed over Midnight Sun and wished for more. Oh, did I mention I've read Twilight nine times, New Moon five, Eclipse three and Breaking Dawn four?
Twilight changed my life. Because of it, I discovered fan-fiction. I was obsessed. I wrote (and spoke) only about Edward and Bella for about a year.
Then I watched a parody on Youtube. That was all it took for me to realize how ridiculously unsubstantial the plot was. Now, keep in mind that I had read the book nine times. I knew it by memory. I did not judge it based on what others thought.
I have been the girl who gushed over Edward watching his love sleep. Now, I am the teen wondering how I didn't notice that behavior strongly resembles that of a stalker before. I never liked Bella, but now, my feelings about her go deeper than disinterest.
Bella is supposed to be the typical teenage girl. She is not. I, for one, am a typical teenage girl, and when I switched schools boys didn't instantly become infatuated with me just because our town is ridiculously small. My friends aren't constantly telling me that I don't see myself clearly and am actually gorgeous – though I use glasses, I happen to have a mirror. Keeping my grades up is not easy for me, though most consider me the smartest girl in my class. I know that I have talents, but I also know that I am very impatient, inconstant and a little lazy. I have actual faults, and they are bigger than being gravitationally challenged.
This book is just plain unrealistic, and the fact that it's about vampires has nothing to do with it. Love doesn't grow in a few weeks. You have to know someone to love them – which is why Bella and Edward's relationship isn't exactly healthy. He's obsessed with her (and it's not endearing, no matter how you look at it) and she is far too dependent on him. Soon, her life revolves around him, to the point that she has only one semi-friend outside his family. Love should compliment your life, everyone, not become the reason for your existence! The proof? One day, Edward tells her that he's too good for her… and Bella still begs him to stay. She begs him! Does the woman have no pride?
Too many of us have been swept up into the dazzling flurry that is Twilight. Girls, Edward is not the perfect boyfriend. His fault: being controlling. He makes decisions for his girlfriend without consulting her. A good boyfriend wouldn't presume to know that his girlfriend can't possibly love him the way he loves her. That's downright insulting.
But the worst part is the way Bella is constantly begging Edward for sex. Bella eventually ends up marrying him because she finds the need for sex overwhelming (and because she thinks being a vampire will make her and Edward equals). Does that sound like something you want to build a life-long relationship on?
Then they finally do the deed – without a condom, may I add. Yes, they got lost in the heat of the moment. Too bad for them. The consequence? A baby.
Teen pregnancy doesn't end the way it did in the books, girls. The father won't marry you. Your parents will be pissed. The baby may be sweet, but it won't be adorable when it keeps you up all night crying. Going to college will be impossible for most, and very hard for others. Your whole life will be changed because you got lost in the heat of the moment! And in the end, you won't regret the baby, but you'll wish you'd waited to have a child.
So move on, everyone, but get something from the Twilight fever. If you learned to love reading, keep doing it. Understand that sometimes a guy may seem charming until you realize otherwise, and that smart girls can save themselves.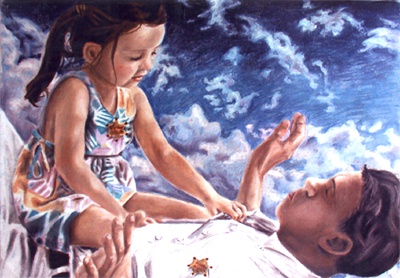 © Meg S., Andover, MA