2017: The Year's Best Songs
January 5, 2018
Now that 2017 has come to a close, it seems appropriate to take a look at the songs that the year had to offer. There were some truly awful songs in 2017, but there were just as many superb songs. Here's an overview of some of the year's best.
Note: All peaks refer to the Billboard Hot 100 and Bubbling Under charts as of January 7, 2018.
Cherish – "Self Destruction"
Peak: Didn't chart
In the late noughties, sister quartet Cherish scored a couple of flimsy but club-ready hits. Then, they fell silent… until 2017, when Cherish, now reduced to a duo, returned.

For those seeking a worthwhile R&B tune, they offered "Self Destruction." A guitar-driven ballad, it's restrained and resists the catchy-but-gimmicky ploys of their big hits as they tell the tale of a relationship on its last leg. Let's hope Cherish is able to keep up the restraint for years to come.

Ed Sheeran – "Shape of You"
Peak: 1
From the opening chords of "Shape of You," listeners knew they were in for a different sort of Ed Sheeran song. Although the lyrics can't match those of "Lego House" or "Thinking Out Loud," they're still intriguing in their own way, with Sheeran singing of a woman who makes the first move in a bar.

The instrumentation is really what drives the song, though. Its tropical percussion sounds eerily similar to Tracy Chapman's "Mountains 'O' Things" (which is now three decades old), but that doesn't detract from its irresistibility and charm. "Shape of You" isn't the deepest or most groundbreaking tune around, but it serves up instant memorability and charm.
See also: "Castle on the Hill," a heartwarming story of Sheeran's childhood

Black Dylan – "Don't Wanna Be Alone"
Peak: Didn't chart
This is quite possibly the greatest neo-soul song ever recorded by a Danish duo. The lyrics aren't exactly gold – they call out "haters" and bemoan loneliness – but the song's blend of '70s funk, melodic horns, and an apparent jazz influence ends up sounding like the Spinners at their best.

Imani Coppola – "Mixed Nut"
Peak: Didn't chart
A simple question can act as the catalyst for a great song. Case in point: "Mixed Nut," which New York singer/songwriter Imani Coppola penned after Kinky Friedman asked her whether she identifies as black or white. (It's a fair question, since she has an Italian father and an African-American mother.)
The cheeky answer to that question, "Mixed Nut," plays like "#Selfie" with extra sarcasm, taking on race issues along with hipsters and Valley Girl-ness. "I mean it, dude – I mean, I wouldn't judge you," Coppola deadpans over a funky beat.

Lady Gaga – "The Cure"
Peak: 39
Premiered at Coachella, "The Cure" doesn't sound like much on paper: its lyrics are those of a boilerplate love song, and the production sounds like half the songs on the dance chart – big deal.

But remember, this is Lady Gaga – the queen of excess. Her records are normally packed to the brim with synthesizers, keyboards, hooky sing-alongs, and bawdy metaphors. Even on her last record (Joanna), a surprising blend of folk, rock, and pop, the songs seemed somehow indulgent. When one keeps all of this in mind, "The Cure" seems anything but normal. Rather, it embodies yet another change in color from dance-pop's leading chameleon.

St. Vincent – "Los Ageless"
Peak: Didn't chart
"How can anybody have you and lose you?" Annie Clark demands in this thumping alt-rock song, which rightly won critics over with its criticism of Hollywood and our obsessions with wealth and agelessness. The static-y instrumentation packs a serious punch, and the song embodies a huge step forward, evoking Siouxsie & the Banshees by way of Garbage. The song is one of Clark's most biting societal critiques to date.
See also: "Pills," a wry ode to the US's overmedication epidemic

Kurt Vile & Courtney Barnett – "Over Everything"
Peak: Didn't chart
"Over Everything" is the indie-rock song to end all indie-rock songs. It finds Courtney Barnett and Kurt Vile, two icons of the genre in their own right, singing their signature stream-of-consciousness lyrics about songwriting and headphones. All of this takes place amidst fantastic guitar-playing, which grows ever more powerful over the course of the tune.

Zedd & Alessia Cara – "Stay"
Peak: 7
In the EDM world, Zedd is regarded as something of a lightweight. "Stay" shows otherwise: the effects and sound drop are sublime, and Zedd's selection of Alessia Cara for the vocals was spot-on. The tune fared well on the charts (it was a top 10 hit in the US and throughout Europe), showing that quality and popularity can align.

Clean Bandit & Zara Larsson – "Symphony"
Peak: 101
Though this song was a tremendous hit throughout Europe, it failed to achieve comparable success in the States. It's a shame, because "Symphony" is a powerful love song featuring a clever series of music metaphors. The tune also successfully incorporates Clean Bandit's orchestral leanings, which were cast to the wind on past singles like "Rockabye." As Larsson declares that she wants "to be part of your symphony," you can't help but believe her.
Julia Michaels – "Issues"
Peak: 11
Julia Michaels cut her teeth penning hits for the likes of Justin Bieber and Selena Gomez. It wasn't until this year that Michaels decided to release a single herself, but "Issues" was well worth the wait.
Built on magnificent pizzicato strings and breathless backing vocals, the song manages to achieve a sound unlike anything else heard on the radio this year. Further boosting "Issues" are some surprisingly intelligent lyrics: she uses the word "overzealous" and tells the tale of a destructive but somehow satisfying relationship. With "Issues," Michaels managed to inject a dose of sophistication into the pop charts.

See also: "Uh Huh," Michaels' follow-up single, which sounds like Avril Lavigne doing her best impression of Marina & the Diamonds

Calvin Harris, Frank Ocean, & Migos – "Slide"
Peak: 25
"Slide" signaled a refreshing change for Harris, continued on later singles "Feels" and "Fakin' It," but although all three tracks are highlights in his repertoire, "Slide" remains the crowning achievement of the trio. Harris's comeback single was pitch-perfect: with a funky synthesizer and electric guitar, the song finds Ocean and Migos swapping verses about money's inability to buy love. It found Harris at his funkiest and most lovable.
Betty Who – "Some Kinda Wonderful"
Peak: Didn't chart
Betty Who's debut, Take Me When You Go, was a gorgeous update on 1980s new wave, full of dramatic tales of love & loss. Who's second record, The Valley (released in March), continued this theme, but it also included some unapologetically lightweight dancefloor-destined songs; "Some Kinda Wonderful" was one of these. "Clap your hands if it feels good!" Who commands. Indeed, every listener should have been clapping, what with the track's speed change – which gives the impression of a record switching speeds from 45 RPM to 33 – and Who's irresistible chant. The title says it all.

Emily Haines & the Soft Skeleton – "Fatal Gift"
Peak: Didn't chart
"Haven't we made enough for a living wage?" Haines demands in this cautionary tale. The song advises against consumerism and greed, with some of the year's most relevant lyrics: "The things you own, they own you," she warns in the chorus. The instrumentation is equally enchanting: initially consisting of a simple, mournful piano melody, more and more instruments come in until the song builds to a hypnotic crescendo of guitars and synthesizers. The song is a gift unto itself.
Lana Del Rey – "Love"
Peak: 44
In 2017, Del Rey made her long-awaited return with Lust for Life, a dark, somewhat political record. (Really, what else could one expect from her?) The lead single, "Love," was a highlight of the record, an ode to young love that effectively channeled Lesley Gore and Enya simultaneously. The song's mood was dreamlike, and effectively described the love lives of Generation Y-ers everywhere: "Look at you kids with your vintage music," she affectionately scoffs before launching into a gorgeous, falsetto chorus.

Katy Perry & Skip Marley – "Chained to the Rhythm"
Peak: 4
In the months following President Trump's election, everyone from the Gorillaz to Fiona Apple to P!nk took a stab at political commentary this year. Unlike many of her colleagues, however, Katy Perry's venture into politics had an ulterior motive: to get everyone dancing.
Indeed, "Chained to the Rhythm" boasted a tropical dance beat and a chorus that begs to be chanted. "Dance, dance, dance to the distortion!" she commanded gaily. True, the song may sound like pop slush to the untrained ear, but that's exactly the point: to mock pop's flimsiness while offering a more meaningful topic in the lyrics. (Perry failed to deliver on her "purposeful pop" promise on subsequent singles: "Bon Appetit" and "Swish Swish" saw her regressing into pop anonymity once again. For the first few months of 2017, though, Perry was at the forefront of pop music with a meaningful message.)

Taylor Swift – "Call It What You Want"
Peak: 27
Taylor Swift's Reputation divided critics and fans, with its focus on Swift's dramatic personal life and war with the gossip columns. Occasionally, her obsession with calling out her enemies pushed the album to the brink of self-parody; at times, it seemed like Swift was less interested in her own relationships and more interested in bashing the rumors surrounding them. However, Swift managed to shine when she stepped back and expressed insouciance, rather than anger or amusement, toward the drama.
"Call It What You Want" features a quiet beat, which contrasts sharply with the bombastic arrangements throughout Reputation, and manages to forgo the drama. The song achieves full glory with a shimmery, restrained climax in the bridge, with Swift singing near-acapella as she confessed "he really knows me… which is more than they can say." Perhaps it's not the most subtle dismissal of tabloid-depicted drama, but the song manages to play like a love song from the point of view of an always-watched icon and innovator… which perfectly summarizes Swift.
See also: "Getaway Car," a tale of a romantic, crime-ridden night with a surprise ending

Selena Gomez – "Bad Liar"
Peak: 20
"Bad Liar" is the piece de resistance of Gomez's 2017 return: penned by Julia Michaels, the track manages to combine so many seemingly disparate elements that it's incredible when they manage to perfectly mesh. The backing track largely consists of a sample of the Talking Heads' new wave classic "Psycho Killer;" throughout the song, funky effects (such as musical triangles and vocals that sound like they're being played on an intercom) pop in and out, contrasting nicely with the tune's otherwise restrained sound. The lyrics are just as good. Their stream-of-conscience flow gives the impression that one is truly getting a look inside Gomez's head during a lonely summer's day.
The track's commercial success was limited at best – it stands as one of Gomez's lower-peaking solo singles. Regardless of its commercial shortcomings, however, "Bad Liar" is – and seems destined to remain – a career high-point for Gomez.
See also: "Wolves (featuring Marshmello)," a techno-infused pop song with a passionate chant

Halsey – "Bad at Love"
Peak: 8 (and rising)
Halsey rose to fame last year as a featured artist on the Chainsmokers' blockbuster hit "Closer." This year, she scored a #1 album (Hopeless Fountain Kingdom) and notched two top 20 hits.

One of these was "Bad at Love," a brutally honest and somewhat cheeky ode to her poor luck when it comes to the game of love. Furthering the single's quality is Halsey's set of killer pipes, which haven't previously been given much room to display her vocals' strength: as she belts the title in each chorus, one feels a rush of power. In short, the track demonstrates that, although she may fall short in love, she more than makes up for it in songwriting and vocal performance abilities.

Sabrina Carpenter – "Why?"
Peak: 121
Early in the year, Sabrina Carpenter scored her first hit with "Thumbs," a pulsing dance tune that, although a spectacularly fun listen, seemed a bit Dr. Seussian ("It never ends till the end, then you start again").
Luckily, Carpenter's next stab at pop stardom, "Why," resolved the preceding single's issues, with lyrics that feel light-years ahead of her earlier work. "You like New York City in the daytime; I like New York City in the nighttime," she confesses in the opening bars. From there, Carpenter continues to lament the differences between her and her partner, until reaching a satisfying conclusion: "we work so well and we don't even know why." The lyrics seem especially apt in 2017, a year in which far too many of the songs sing of doomed love and painful breakups. It also plays like an update of Paula Abdul's hit "Opposites Attract," written for a younger audience. Either way, the song is impressive.

Expert production further helps its case: the beat drop and spliced vocals sound like a lighthearted take on Kiiara. "Why?" might not have been the biggest and best song of the year, but it manages to simultaneously dispute and epitomize the year's musical trends.
Kehlani – "Too Much"
Peak: Didn't chart
Although it was relegated to the measly status of an album cut on her debut album, "Too Much" shows Kehlani at her fiercest and most unapologetic. Built around a warped sample of Aaliyah's "More Than a Woman," the song is filled to the brim with wordplay: "Two much, three much, four much, five much, too much for ya," she giggles; the track is an effective, expletive-laced update of Aaliyah's 2002 classic. This one will become a classic, too, if there's any justice.
See also: "Keep On," a Janet Jackson-eque confession of Kehlani's imperfections

Childish Gambino – "Redbone"
Peak: 12
If one wishes to be technical about it, "Redbone" came out in late 2016, but it wasn't until the summer of 2017 that the song really took off and started earning multiplatinum certifications.

The song is guaranteed to please fans of 1970s R&B; "Redbone" could have been released by the Stylistics in 1974. (For that matter, it also could have been released by Prince in 1982 or Macy Gray in 2000.) In a year that many artists were vying to utilize the latest producers, the loudest synthesizers, and the gloomiest lyrics, it was refreshing to hear a song that looked to the past, not the future, for inspiration.
Lorde – "Supercut"
Peak: Didn't chart
Lorde's Melodrama told the tale of a house party, but in a larger sense, it told a much larger story, one of love - whether it was young, unrequited, lost, or messy.
"Supercut" expressed this feeling better than any other song on the album, with Lorde replaying the highlights of a short-lived, possibly nonexistent romance. "I'm someone you maybe might love," she muses. She credited Robyn as a major influence on the record, and it's easy to see here: one can dance to the song, with its smooth beat, but the lyrics don't suffer.
See Also: "Perfect Places," Melodrama's touching grand finale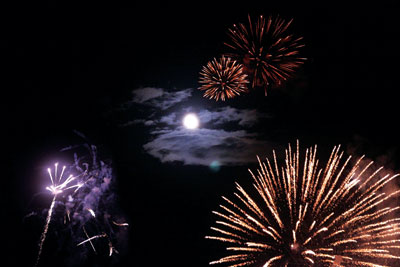 © Meena K., Groton, MA