Why I Hated "The Fault in Our Stars"
MAG
October 29, 2014
We've all heard of John Green's The Fault in Our Stars. But on the off chance you've been living under a rock, I will give you Goodreads' description of the book: "Despite the tumor-shrinking medical miracle that has bought her a few years, Hazel has never been anything but terminal, her final chapter inscribed upon diagnosis. But when a gorgeous plot twist named Augustus Waters suddenly appears at Cancer Kid Support Group, Hazel's story is about to be completely rewritten." Sounds sad, right? It is. Was it a bawl-my-eyes-out story? No. Not for me.
My friend who read The Fault in Our Stars for ninth-grade English recommended it to me, so I thought, Why not? I might as well see what all of the hubbub is about. So I did. And I have to admit the book was good. Not amazing, but good. I did not cry, however. Everyone I talked to was shocked. Everyone who read the book cried, and I hadn't even been close to tears. But the book isn't where my rant begins.
When the "Fault in Our Stars" movie was released, my friend Cassidy and I walked into the theater very excited. I thought I would cry and want to see it a dozen times, but I didn't. Not even close. Cassidy and I were the only two people in the theater who weren't sobbing loudly; we weren't even tearing up. Yes, it was sad, but it definitely wasn't the saddest movie I have ever seen.
As someone who knows what it's like to live with someone who has cancer, I hated "The Fault in Our Stars," because it glorified the illness. My dad had stage IV glioblastoma – the most malignant type of brain cancer. After his brain surgery, he couldn't walk, use the bathroom without help, or dress himself. Pretty much everything had to be done by a nurse or my mom; I like to joke that if that isn't true love, I don't know what is. I know firsthand how sad terminal illness can be, especially since my dad's cancer was in his brain. At least Hazel and Augustus could talk, walk, and think normally. After his brain surgery, my dad was never the same again. He yelled at us more often, and sometimes we weren't even sure if he knew that he was going to die. If they based their knowledge of cancer on the movie alone, no one in that theater would have a clue how hard it really is to live with.
I didn't cry during "The Fault in Our Stars" because what my dad and my family experienced was far worse than what Augustus and Hazel did. I hate saying that, but it's true. I cried so much when my dad cursed me out or yelled at me. I wonder what the people in the movie theater would have thought if they'd watched my father deteriorate without even realizing what was happening to him. What if they had seen what he looked like right after he died – his lifeless body more peaceful than it had been in months? If only they knew what my father went through, then the story of Hazel Lancaster and Augustus Waters would have seemed like a cakewalk.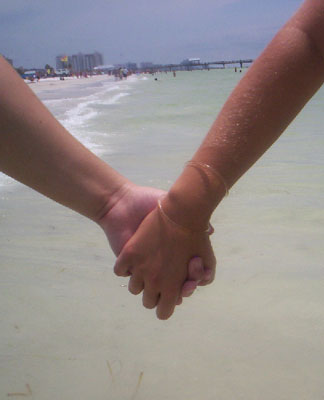 © Belinda H., Palm Harbor, FL