To Bright Beginnings This 2015
January 6, 2015
Note: Words in brackets may sometimes be direct interferences from either my patronising, pretentiously cynical or self-mocking, irritably optimistic inner self - it will not be hard to decipher.
This was meant to be a clichéd "New Year, New Beginnings" blog post that documented my lacklustre, yet significant 2014 and extensively detailed and relentlessly mocked my resolutions for 2015. But, now it's not.
2nd of January. That bitter reminder of how the 1st of January is really just an overrated, over-celebrated change in the lunar cycle and life, in actuality, just goes on as one vicious set of 365/366 days strung haphazardly together, one after the other. (Good God! Terk crap in your cereal or something?)
Most 2nds of January mornings are spent nursing headaches from laughing too hard at my dad trying to dance or straining my eyes too much trying to watch where I'm going through the dark and the makeshift strobe lights. This particular 2nd of January 2015, my parents and I watched the video recording of my cousin's memorial service - Deepak had passed away on the 9th of March 2014, at 28, in a completely unprecedented, tragically freak accident. I hadn't been able to attend the memorial service so, I paid extra close attention to the previously-recorded, slightly-edited and tuned-over proceedings. I glanced over at my parents before the actual speeches and readings began; both of them glued to the screen, their eyes glazing over; my mom ready to tear up at the mention of his name.
Family member after friend after family member came up to the white, lily-bedecked stage and tried to compose themselves at the school-auditorium-esque podium, some taking shaky glances at the blown up A3 size image of a smiling, "ching-chong" eyed Deepak. Their speeches all had a commonality – they stressed (as they should) and highlighted (as best as they could) Deepak's selflessness and limitless concern and compassion. "He touched everyone he came across", "He did in 28 years what I wouldn't be able to do in 50 years of my life", "There will be no one who can replace him", "He was a selfless, loving, caring human being" – mind you, none of these statements were remotely false. They weren't flowery pretenses flung carelessly for the sake of immortalizing an image that didn't really exist – they were heartfelt, desperately-trying-to-be-accurate proclamations of Deepak's good naturedness and genius.
Finally, Deepak's sister, Divya (It's Divyachechi, you little runt) was asked to come forward and "say a few words". She chose, instead, to read out a poem my father had asked me to write for Deepak's "coffee-table-memorial-book". My parents both looked at me and smiled that slightly cringe-inducing, typically parent-ish "We're Proud of You and We Love You, Especially For This" smile. I laid my head on my dad's shoulder – my way of reassuring him. I turned my head to the screen and watched Divyachechi's seemingly composed self and listened to her slightly-teary voice recite the words of a poem I wasn't sure I could write.
Side note about this poem: I didn't know if I could do it because I wasn't sure if I wanted to. I was close to Deepak in the way that older and younger distant cousins somewhat are – there is tonnes of room for intimacy and comfort, but they hadn't been tapped (you mean, "WALKED") into. So, I didn't want to make a mess of something that should actually come from the heart. The first draft I wrote was pretty half-assed, if I do say so myself. And my dad told me himself too. Paa was particularly close to Deepak and so it was really important, to him, that I put into words what he felt. What anyone, with even a minute inclination to write, will tell you is that, that's really not all that easy. I mean, it was one thing to put down on paper what I felt – which in all honesty, was not as much as I would have liked or wanted it to be; I wish I'd been closer to him, I sincerely do – but to put down what someone else felt was an entire different sport. (Mind you, this is the only reason I really like running because there really isn't much to it, unlike other sports. So, this metaphor is excruciatingly apt). He told me, in that particularly stern-yet-soft fatherly way of his, that Deepak's death meant more to him and affected him more than those of his older brother and father. "He means as much as you do to me". There was no way I could wriggle out of this and neither did I want to. I wanted, then, to do this for Deepak and my dad. I was determined to write a bloody good poem if there ever was one, to perfectly preserve the Deepak I knew and the Deepak my father loved.
As Divyachechi choked her way through the last line of the poem – rightly titled "Shine On, You Crazy Diamond" – I turned over to look at my dad. And there they were – the tears I had never seen my father shed ever in the eighteen (and a half!) years of my life.
At that point, I thought to myself, 'How amazing do you have to be to get people to say things like that about you? Like, how selfless and caring and just all-round great do you have to be to be loved the way Deepak was.'
I mean, I don't think there was ever a selfish, mean bone in this guy's body. Everybody loved Deepak – tributary movies could be made revealing how much he meant to people and how much they loved him and you'd probably have a series longer than Harry Potter. The guy was magic. Pure, good magic (and no, I'm not trying to be "punny").
It kind of hit me then that I wanted to be a lot like him. I'm not exactly selfless or easily-liked, and I'm not trying to say that I'm disappointed in the person that I am. I love who I am and I love myself enough to be even better. I think Deepak's senses of self and selflessness are the perfect bars to try and reach. I don't want to be a "nicer person" because it'll get me remembered (though, that's not too bad) but because I think that's a great type of person to strive to be. Spreading happiness and fun and cheer doesn't just have to be Santa's old-age, existential maxim, you know. It can be mine, and yours too.
I know there are a lot of people out there who want to be better, more significant people this 2015. And I'm here to tell you that it's possible. Yeah, maybe you won't be a Deepak and yeah, maybe these traits we so wish to possess are inherent. Genetic. Innate. But, that doesn't mean we can't try to form them and appreciate them enough to inculcate them into our daily lives and existing relationships. We've all got a little light in us, a little Deepak (Deepak means "source of light", FYI) and all we've got to do (in all cheesy, genuine honesty) is let it shine on.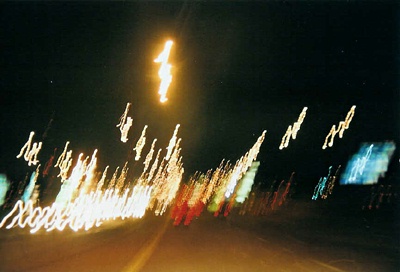 © Matt M., Ponca City, OK