Love thats not ready to be lost
September 10, 2012
I will admit I've never believed in romance. of course like any other teen i read romance novels envisioning my perfect love. i had and maybe still do have a best friend who fit my description of a perfect love. In fact his flaws were exactly what i loved about him. My insecurity was the downfall of our relationship though. Wouldn't you be afraid that the one you loved might find better? i believed that breaking things off would make it simple and not hurt so much. he appeared to move on and I'm happy for him but when i would see him with a girl i couldn't help but think that i would've still been heartbroken if i stayed with him. but i scold myself when i think that. i still haven't yet to move on and i worry people at times when I'm lost in thought my friends know whom I'm thinking about. but do you believe i lost my chance. i find this ironic, someone who never really believed in romance is in loves death grip. i still look at the pictures of us, even as friends and think 'did i make the right decisions?' or 'is it really to late' 'does he miss me?' and 'does he look at her the way he used to look at me?'.
the love i seemed to not be able to lose is really getting to me. read one of my poems and you'll see.
i hope its not to late. but i refuse to give up. if the feeling is this strong i wont give up. but this time I'm not letting myself get afraid because even when we'd break up he was always there for me. even when he was heartbroken.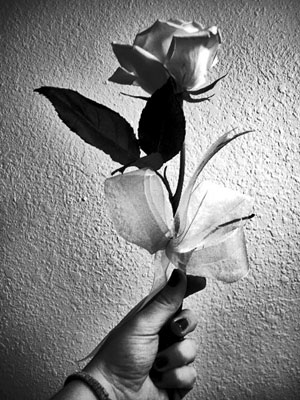 © Lauren R., Edmond, OK