One of "Those" People...
March 9, 2010
You know what makes me smile?
Disney Movies. Old couples holding hands. Flowers. Dancing kids. Happily Ever Afters.
Yes, I heard the collective groan from you cynics out there. :) I'm one of "those" people. I believe in fairytales. I will never ever tell anyone, of course. If you ask me, I'll deny it to the grave. Every girl has those little dreams, though. The ones we keep tucked away under our pillows, for rainy days and late nights. We pull them out and admire them, hoping they'll come true by some crazy twist of fate. Then, when we're done and reality beckons, we put them away again, until we have time to get back to them. We see romantic movies that only add fuel to the fire. Kissed in the rain? Running through a field of flowers? Interrupting your best friend's wedding only to tell him that you're the one he's supposed to be marrying?
Yeah, we get it. We know. This doesn't happen. Those things don't occur outside of the crinkly pages of novels and the glamour of Hollywood.
Or do they?
I've seen a couple. Actually, I've seen a lot. And not one of them involves kissing a frog, rappelling up someone's insanely long hair, finding another glass slipper, or getting kissed awake. They're all pretty ordinary. And, in this world, where everything is BIGGER, BETTER, FASTER...isn't ordinary extraordinary?
To me, my Happily Ever After doesn't have to be in a giant pink ball gown. I don't need a perfectly coiffed Prince Charming. Glass slippers? How comfortable are those, anyway?
All I want is to be happy. I believe that is the only necessary ingredient in fairytales. Happy. Forget fairy dust and dwarves. It's even in the phrase: HAPPILY Ever After. You know, the pursuit of HAPPYness?
Many girls will tell you many different things, and I'm sure I can't vouch for all the girls out there when I say that I don't care what color hair my Prince has. I could care less about how large his nose is or how obnoxious his laugh is. As long as I'm happy, that's pretty fairytale-esque to me. Because where Happy is, Happily Ever After is sure to follow.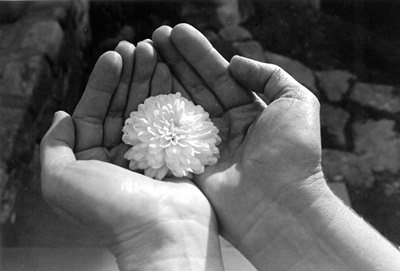 © Beth S., Marblehead, MA