We are Greatness.
February 24, 2010
What is it that our hearts truly desire?
When we strip away the façade, reveal the face behind the mask, peel away the layers until all that is exposed is the core of our being- what does our heart beat for?
My quest for happiness began my sophomore year of high school.
Growing up, the world told me to believe in the fairytales of Hollywood, and my mom told me not to believe in them at all. Looking back at the past year, I realized that I don't have to find my handsome prince to live happily ever after, just myself.

It was my 3rd run to Walgreens for yet another box of Kleenex. As I passed by the makeup aisle, I glanced in the mirror. The tip of my nose had swollen to a bright red, slightly resembling Rudolph in its puffy, swollen state. I picked up some antibiotic cream, anxious to return to my chick flick marathon with my good ol' friends: me, myself, and I. My baggy, grey sweats hung loosely over my body. My unwashed hair clung fiercely to my head, the grease emanating an appearance of utter dirt. But I didn't care. The cashier's stolen glances and muttered words did not phase me: I suffered from a broken heart….need I say more?

But something suddenly clicked. What if my heart didn't need to be broken anymore?
What if I could show him, and every boy, that they weren't even worth the gas to drive to Walgreens?
Maybe it's my time to shine. Maybe it's time for me rekindle the passion within the confines of my heart to be somebody. Maybe its time to say no more.

We all stand at a fork in the road of life at one point or another. One path leads us to the tissue aisle at Walgreens. Always hurting, always wishing, always choosing love for him over respect for ourselves.

The other leads to one thing-greatness. We all have the power, the audacity, to choose to pursue avenues of adventure and discovery, without the shadow of rejection looming over our shoulder.

Our time is now. We can be the girl who chooses greatness. We can be the girl who never regrets, always lives, and never has to take a break in the action to dry her tears and wipe her nose. We are that girl. We are greatness.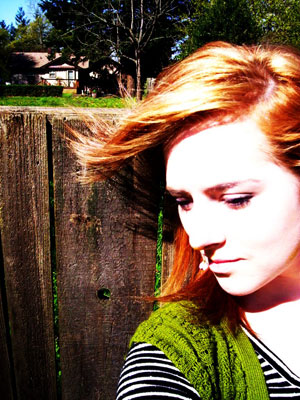 © Anna K., Portland, OR