Signs of an Unhealthy Relationship
August 18, 2019
Today I will talk about some point of a unhealthy relationship.
- Obsession : if you see your partner want literally know everything of your day everyday, could be a allarm signal
-jealous: him don't want you accept the friendship request at your elementary school friend? Don't want you wear some sexy dress when you go out? Perfect, is a clear situation when him want controlling your life. You could said who him is only jealous but remember: jealous is one thing, life control is another.
- Jim don't accept you want broke up with him or similar? Well, don't make control your life from this thing! Him want only scare you and make you think you should stay with him
- Violence: you have a discussion with him, you look him eyes, are different... After him will punch you! Now you have two possibilities : forget what happen or broke up. Him will try to convince you to stay with him, will said it was an isolated occasion, could make you some gift. But no! If him have do it only one time, could do it every time he feels hungry! Don't believe him.
Now, if this happen in your relationship you could go in a center or talk with the police!
Don't shame for this!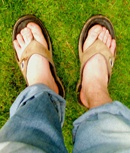 © Caitlin E., Sammamish, WA