Even I Do It
March 20, 2012
It is wrong, yes, I know, but I, like many others, cannot help it. I stereotype people all the time! That guy that just walked by me at the grocery store, I think he might have stolen something because he is wearing a hood. That woman in the too short dress standing on the street corner, I think she might be selling herself for more than just money. That family with five kids all dressed in clothes six sizes too big, must be on welfare. Most times, stereotyping just happens, it is unintentional and I always feel bad about it.
There was one time, when I really should have paid more attention. My best friend, Rosie, and I met in our English class freshman year (3 years ago). Also, in that class was a boy named Johnny. Johnny was funny, cute, and apparently the boy of Rosie's dreams. They hit it off almost immediately! In October of 2009 (Sophomore Year), they began officially dating. I thought he was a sweet guy, one that would treat Rosie like a princess. Everything about him screamed "Perfect Boyfriend". He bought her presents, made her laugh all the time, and brought her out on the most amazing dates a girl could ever dream of. She loved him more than she loved anyone in the entire world. They seemed to be inseparable!
In May of that year, things started going sour. Johnny got really sick with Mono so he was not in school anymore. He refused to let Rosie near him or even in his house, which we all believed was because he was being very protective. When he got better, he came back to school, but things were different. He would not answer her phone calls or text messages and he barely talked to her at school! Just after school let out for the summer, he flew to Germany on an Exchange Club trip. They talked maybe twice during his 4-week trip. Slowly he seemed to push Rosie farther and farther away. In October of 2010, after months of ignored texts and calls, she broke up with him the only way she knew: Facebook.
The guy I had believed was absolutely the sweetest, most amazing boyfriend, turned out to be the cruelest nastiest person ever! He shared ALL Rosie's secrets to anybody who would listen. He blamed her for not communicating even though she tried calling him every single day when he was sick. He even had the nerve to blame us, Rosie's friends, for breaking them up, even though we were nothing but supportive of BOTH of them! I never did tell him that I had thought so much more of him before all of that, but I did talk about it all with a few other friends.
In addition to the several times I have stereotyped others, I too have been stereotyped. Because I am not a small person, young children often think I am a monster. I am so much taller than they are, and much bigger too. I am also a stranger and that scares them. To change that effect, I always crouch down to a child's level when I am talking to them so I do not seem as scary. Also, smiling helps reassure them that I am not going to hurt them and that I just want to be friendly.
My thoughts on stereotyping have not changed at all. I still have and will always believe that stereotyping people never leads to any good in life I know it hurts to be put in the position of being stereotyped and how horrible it feels when I do the stereotyping. I never want to feel either way ever again.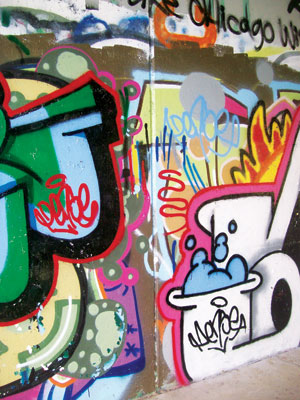 © Michelle W., Ada, MI