Dear America, "Enough is Enough" Is Not Enough Anymore
May 25, 2018
IT MUST BE really horrible to be a student in America. Same goes for nightclubbers, churchgoers, government workers and party celebrators. Since Columbine, 139 people have died in violent mass shootings. In 2014, gun violence killed 34,000 people, the most recent year for which data is available. We can only imagine how much worse the toll will be this year. In comparison, that year there were just 224 justifiable homicides, where a private citizen used a gun to protect themselves, according to a new study by the Violence Policy Centre (VPC).
Where I live, as a student in New Zealand, the latest school shooting happened in 1923. In America, yesterday's attack on a Texas high school is the 16th shooting to have resulted in death or injury during the first five months of the year.
Only other difference? We have much tighter gun regulations. And yet the US needs the students to tell them what they're doing is not good enough. Soon, surely, there will be a tragedy so painful the whole country cannot forget it.
To those outside the USA it seems this has already happened.
In the aftermath, democratic senators hoping to boost their approval ratings say: "enough is enough" and then seem to forget about it, and any action, until the next tragic event. Well, America, "enough is enough" and this time you're not going to forget it. You cannot let this massacre become routine. This morning, my mother sighed: "you know there's been another one of those mass shootings in America." Another? And yet congress has refused to tighten restrictions on gun ownership. Even safety locks on dangerous "Assault" class rifles, which do not impend the "rightful gun-owner's" rights, are tossed aside. The Texas shooting yesterday, was undertaken by a boy using his father's gun. 
"We're lessening the threshold of how crazy someone needs to be to commit a mass shooting," Austin Eubanks, who survived the 1999 shooting at Columbine high school, told the Guardian last fall.
It would not feel anyway untrue to place the blame on the shoulders of the NRA and the Second Amendment. Overly-powerful lobbies, generally, are bad. But the massive power they hold over congress comes from a relatively small group of people. A 2017 economic impact report by The National Shooting Sports Foundation, an industry group, claims arms and ammunition production and sales support 141,500 jobs. That is less than 0.1% of total employment in America, fewer than the number of people who work in wholesale bakeries and tortilla manufacturing, and about the same as the number employed in gift, novelty and souvenir shops. A firearms survey carried out in 2015 by Deborah Azreal, a Harvard scientist and her colleagues claims that between a fifth and a third of adults own a gun, which translates into about 3% or 4% of American adults owning half of America's stock of about 272m guns.
So why is this such a hard conflict to resolve, particularly in elections, when the statistics suggest that only a small amount of the voting population hold guns? Does that mean that the US citizens without guns believe that other people should? It is true that surveys suggest that gun ownership is concentrated in an acute demographic with high-voting turnout rates: according to Ms Azreal's data, 34% of gun owners are aged over 60, while 81% are white and 72% are men.
This is why the voices of these terrorised students are going to be so vital next election. At a "Students Speak Up" event on April the 29th, U.S. Rep. Raja Krishnamoorthi, D-Schaumburg said "We're here because of Columbine, Parkland, Sandy Hook, the list goes on. You are doing something about it." He said he has helped sponsor federal bills "calling for universal background checks, closing the gun show loophole, a three-day waiting period on handguns. These are going nowhere in Congress. I need your help now more than ever." So while it is clear that middle-aged white republicans are not going to be much help, we can only hope that with the young generation of passionate "March for Our Lives" teenagers gaining voting rights, more will feel inclined to go out and share their feelings.
There's certainly no question as to whether they care. Hundreds of thousands of people have turned up at these sort of events, making them too, if they do decide to turn up at the polling booth, more powerful than the NRA's lobbyists. Emma González, a teenage survivor of February's school shooting in Parkland, Florida, shared in a powerful rally speech in front of the Capitol building last March, "In a little over six minutes, 17 of our friends were taken from us, 15 were injured, and everyone, absolutely everyone, was forever altered," Let's hope she's right, or nothing will change, again. We can only hope that action on the part of voters and Congress will prevent the "Am I Next?" placards students all over the world are carrying from preaching truth.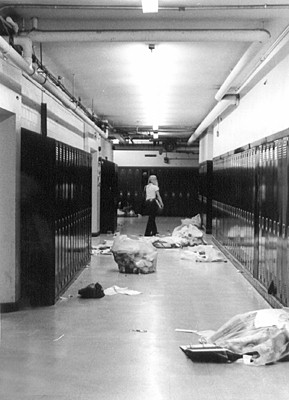 © Halsey S., Marblehead, MA