If I Were Mayor: Adapting to a Changing World
November 30, 2017
Without a doubt, the world is changing. Children are just a few phone games away from marrying their devices. Teenagers are elbowing each other trying to simultaneously figure out who they are in the world and fight for a college admission letter in an increasingly competitive society. Adults are trying to adapt to a world so different than the one they grew up in. So where does a change start? I believe with my entire heart that it starts with a town. It starts with the children growing up in that town. It starts with the teenagers packing up their principles and morals and opening them in a completely new part of the world when they leave that town. If I were mayor of my town, I would promote awareness, communication, and unity.
Because children are sponges to their surroundings and they're the ones who have the true power to make a change, I want to describe my ideas for them first. Firstly I would stop by all the local elementary schools to have an assembly with the children to talk with them about who I am, what I believe in, and frankly what their ideas are. Now maybe some eyes are being rolled at my plan. Why would I ask a group of boys and girls who don't even know what a square root is yet what to do with an entire town? Well I want to give them a voice. I want to hear their ideas, no matter how unrealistic, and tell them to keep dreaming and make it a reality. I want them to learn to speak up and be heard. To promote awareness, I would invite teenagers from organizations fighting racism and sexism to come in and give a short presentation. It would not be an angry barrage of how unfair the world is, but rather a message of spreading love and tolerance. Schools wouldn't teach students to cross out the picture that is different than the others but rather circle or draw a heart around it. Rather than reject technology, I would push for students to embrace it but in an appropriate manner. I would create a computer class in every school. In a world where technology is ubiquitous and college applications and job applications are online, I believe it would be a disservice if the children were only left to wander the web for games rather than also develop typing skills.
I would work with local nursing homes or communities of children or adults on the autism spectrum and have the students get to know them. Other than just aquariums and zoos and museums, I want to fund field trips to listen to poetry slams and observe art shows and science labs. I want to open their eyes to how many opportunities they have, to step into middle school and high school as knowledgeable and passionate advocates, dreamers, scientists, teachers, doctors, lawyers, presidents, writers.
As for teenagers, I would designate one boy and one girl from every grade from sixth to twelfth in every school to meet with me once every month. I want to stay updated on what they want to see in our town. My own ideas include a de-stressing room. The town I'm growing up in is filled to the brim with stress. With self harm and body image issues as topics that have affected those around me, I want to combat that in my future town. The de-stressing rooms would have meditation areas, puppies, bubble wrap, and any calming activities. To appeal to the technology savvy students, I would implement a chat room online in which students from completely different schools could help each other with academics. Expanding unity and learning, these chat rooms would always be open for students to answer or ask questions. It could also be used to fight loneliness when studying until the early hours of the morning. Nighttime is when even loneliness takes refuge in someone's mind to get away from itself. Of course it would be monitored to ensure everything is appropriate.
For the ones who have perhaps the most powerful voices in the town, the adults, I would hold town meetings. Similar to those with the high schoolers, they would be held monthly to bring up any issues or concerns. To help with communication, these town meetings would be broadcasted on a local radio station for the entire town. Inspired by Franklin D. Roosevelt's Fireside Chats, Conversations in Motion would come to fruition. Adults would be able to tune in at any time to this radio station to catch up on any new information while on their way to work or on their way to pick up their child from a sports practice.
Ultimately, unity in a town is what makes it safe, successful, and lovable. I would hold town culture days in which all the residents would gather together for an afternoon dressed in the traditional clothes of their culture and bring a food dish from their culture. It would be a celebration of diversity and a toast to the potpourri of different skin colors and different languages. I would organize town events like cleaning up the park or making sandwiches for the local soup kitchen on weekends. These would be times for the entire town to get together and be a community. Lastly, I would make a day specifically for thanking the police and firefighters. The brave men and women who are the first to rush into a burning house or the first to stop a robbery deserve recognition.
If I were mayor, it would be our town. It would be the town that raises dreamers. The town from which aware and accepting teengaers step out into the world to leave their mark. The town that one plans on just settling down in with a family but ends up joining an entire community. If I were mayor, it would be a town that residents would be proud to live in.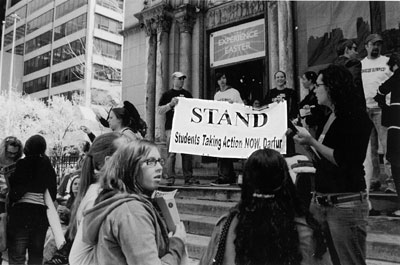 © Meaghan M., South Portland, ME