A Two-Sided Societal Bias
December 26, 2014
The fatal shooting in Ferguson, MO on Aug. 9 turned Michael Brown into a martyr for the movement against police brutality and discrimination. However, the story of Brown's death is full of contradictions. The blame for this incident should not be put on only one person; there are complex social issues that must be considered.
According to CNN, Michael Brown stole a box of cigars after physically beating a store owner. Upon being confronted by Officer Darren Wilson with violent, aggressive language, Brown attacked Wilson through the window of Wilson's car. Then, upon fleeing the scene, Brown was shot six times and fatally wounded. Had either party acted calmly and respectfully, the situation may not have escalated; there would have been less tension on both ends.
While some witnesses initially reported that Brown was shot with his hands up– surrendering or running away–the physical evidence proves that Brown was moving toward Wilson. Brown's speed could not be confirmed or denied from evidence, but Brown moved over twenty feet in the direction of Wilson. According to The Washington Post, there are witnesses that report Brown was aggressively moving towards Wilson, against verbal instruction from the officer.
The case of Michael Brown was not the right case to make a change in law enforcement racial bias. Instead, consider the case of Eric Garner. Garner was accused of selling individual cigarettes in Staten Island. Upon resisting arrest, Officer Daniel Pantaleo held Garner in a chokehold, a practice prohibited by New York City Police Department. Garner died shortly afterward, and the coroner ruled that Garner died due to the chokehold,  according to The Associated Press.
USA Today reported that Officer Pantaleo had been previously accused of police abuse. Two civil rights cases were filed after Pantaleo strip searched two black people in the middle of the street.
Eric Garner was not a violent offender, and according to USA Today, Pantaleo was using a banned restraint technique. Because there are previous accounts of racially biased crimes, there is more evidence that the death of Garner was unjustified.
Brown was a criminal who acted out violently at an officer after already having beat up a shop owner in the same day. Instead of pointing out Wilson's racial bias, the situation surrounding Michael Brown's shooting points out a deeply-entrenched distrust of and disrespect for law enforcement. Brown chose not to follow Wilson's directions and retaliated violently.
In a 2014 Pew Research poll, there is a clear racial gap in the interpretation of excessive force used by police officers. In response to the question, "How much confidence do you have in police officers in your community to not use excessive force on suspects?" Only 11% of white Americans said they had very little confidence compared to 40% of black Americans.
It is fair to assume that the gap in confidence leads to a gap in reaction regarding officers. Black Americans are more likely to harbor distrust, and thus, feel a need to defend themselves. Every confrontation becomes a fight for survival.
When Michael Brown was confronted by a police officer, after already committing a violent crime, he could have been acting in fear. The actions of Brown — intimidating an officer to a point of self-defense — cost Brown his life.
Had Brown not acted aggressively, he may have lived. While it's possible that Wilson overreacted based on racial biases he holds, it's also possible that Brown reacted inappropriately because of his own racially-fueled distrust of the police.
Similarly, if Wilson had not defended himself, we may be hearing about his death instead. According to Vox, it is not illegal for an officer to use deadly force when he or she is in fear for his or her life. There are no laws that say when a cop can or cannot kill someone. Instead, each police department determines their own standards and guidelines. This is the reason that officers are not often convicted.
The real issue is the racial tensions that exist between white police officers and African-American civilians; both sides overreact in fear. Blaming only one party for a complex issue, one that has been ingrained in society for generations, does not solve the problem.
Protesters want to put all the blame on Wilson, saying that his actions were definitely biased. The truth is, we don't know. But we also do not know why Brown's actions were so violent. Brown's aggression could also have been caused by racially-biased fear. Both are assumptions, but both are supported by statistics.
To end racial biases in the criminal justice system, people from all backgrounds must acknowledge that they all have some ingrained bias. No matter how much we try to say that we are not part of the problem, sometimes it takes a tragedy to reveal our underlying assumptions.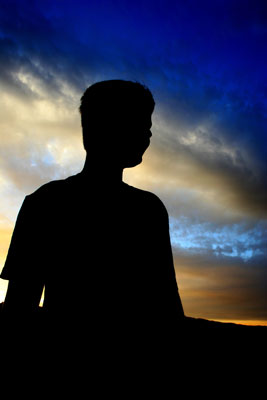 © Monica L., St. George, UT