Teen Driving
January 4, 2013
Cars are essential to our lives. They take us wherever we please, giving us the full power of responsibility and a taste of adulthood. Although there are the advantages, there are also the consequences generally toward teens today, A driver's license for a teenager is one of the biggest events in their young lives. The independence it gives them is wonderful, but it can be quite frightening as well. About 14% of fatal accidents are teen- related. The percentage may seem small, but this equals to 5,000 lives being lost every year. No more daughter, no more son, no more grandchild, friend, or maybe parents themselves.

Most of these accidents are as simple as the lack of driving experience. You would think that warning a teen against driving and drinking would be a no brainer, but can you believe that this is the leading cause? Continuously, people are dying everyday as a result of something they could've prevented, yet a number of them don't learn the first time. When they do realize, it's already too late. There's no going back and there's no need to look 'cool in front of others.' A reputation never should cost a life.

The Wireless Communications Device Law was introduced January 1, 2009 to all in California and many other states. It states that any persons with a license cannot write, send, or read text on any electronic device, such as a cell phone, while driving a motor vehicle. Now even though it just says cell phone, people need to understand that it also means no headphones/loud music, reading, getting dressed, putting on makeup, alcohol/ drug consumption, or anything that can distract yourself from paying full attention to the road.

Ironically, even though a law was passed, there are often stories about car crashes located in the daily news about how he/she was under the influence or just wanted to check the time in their cell. Everywhere I go I see situations like this and it disappoints me that they think it's okay. I remember a time where my sister and I were walking home from school and as we were crossing the street, I witnessed a conversation going on from, not the same, but two different cars! A elderly lady was on her phone and a couple, two cars away, saw and started telling her that what she was doing was wrong, that people are dying everyday because of what she was doing. Yet, after all they said, the old lady just shrugged and announced, "I don't care." Can you believe that! I would've thought she was more wiser, especially that my sister and I were crossing. Those kind of people put shame in humanity.

A teen's life and the risk of others is always on the line. It doesn't matter how long or how much experience a person has. While some teenagers are confident and can't wait to get started, it doesn't mean they are ready for a license. Depending on how they handle similar situations, shows if they are ready or not. Although I certainly think the age to drive should be raised to 18 at least, for now they need to use their commonsense. After all, it's not worth to be stupid while many other people are in the picture.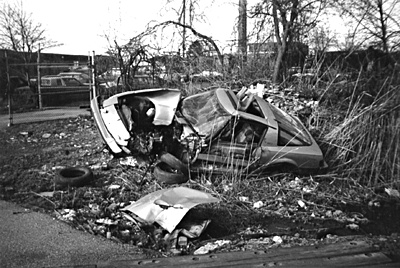 © Ashlee M., Wilmington, DE