Tagging Teen Drivers
December 15, 2009
It's your first time driving and your parent is in the passenger seat. You put on your seatbelt, start the car, and slowly reach for drive. Now, the pressures on as the car starts to move forward. You can feel your parents' eyes burning into the side of your face, and criticizing every mistake. Not to add to it, but on your license plate is a reflective sticker, letting the whole world know that you are a teen driver. You already have strict laws to follow, and now you're standing out even more. And don't forget, home by 10, not a minute late, because remember, the cops will know your out past curfew and will give you a ticket. Then, guess what? Congratulations, your license is now history!
A new law was passed in New Jersey that requires all drivers younger than 21 to have a reflective decal on their license plate. This was enforced in an effort to reduce the number of teen deaths. Is this really fair? Teens are already targeted by Police, by pointing out teen drivers, were only putting more pressure on them. Many believe this will make them drive more careful and lower the number of teen deaths. Will it really, though? While under pressure, you get more nervous and that may cause you to drive worse.
The US Department of Transportation said that about 5,000 teens are killed in car accidents each year. Some of them could have been prevented, however some couldn't have. Four teens were killed in Roseville, Michigan when a drunk driver hit them while they were stopped at a stoplight. In this case, a reflective sticker wouldn't have saved the teens lives and the crash was not their fault. If a teen is doing everything their supposed to, but a deer runs in front of them and they are killed, we are not going to prevent that with a sticker.
In an interview with a new driver, Jacquelyn W. explained that her license already has strict rules. "I'm already under enough pressure because Police pick on teen drivers and adding a decal would only make them pick on us even more." Yes, many teens would drive more carefully and not speed and always be home on time. And maybe it would prevent some deaths, but in an effort to reduce the deaths, we may be adding to them by putting more pressure on teens, which could cause many teens to run off the road or drive faster. The New Jersey law was enforced to prevent deaths; however, some are just not going to be preventable.
How about we point out elderly people, the handicap, or the ones with a criminal background? Why don't we stereotype people by their license plate? My point is, it just won't work. Were not going to know that someone is going to fall asleep at the wheel by a decal on their license plate, were sure not going to know if a teen will swerve to miss a deer and roll their car.

Here's an idea, lets cut teens a little slack by not putting a decal on their license plate. It's not going to prevent most deaths because some we just can't prevent.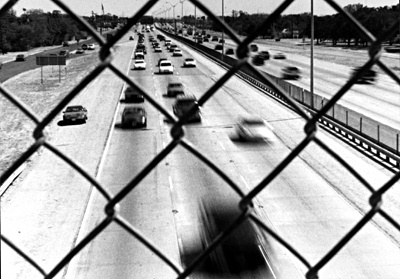 © Matt B., Highland Village, TX