Standing Tall as the World Shakes
June 3, 2020
Growing up in California, we are constantly reminded of the greatest danger: earthquakes. As we are in proximity to the San Andreas Fault Line, many of us live in fear of this catastrophic natural disaster. We watch videos of the Loma Prieta quake of 1989, frightened by the swaying lights and crumbling houses. We are jolted awake by small earthquakes, watching the books on our shelves rattle in the dead of night. Attempting to comprehend the magnitude of these natural disasters can be difficult. Two tectonic plates could quite literally upend our lives.
Since Loma Prieta, California has not experienced a major earthquake. Instead, the world itself is experiencing an earthquake of sorts. There may not be plates falling or swaying lights, but the globe is shaking with tragedy, change, and strife. In January of 2020, a major figure, Kobe Bryant, passed away in a tragic accident. Australia was rattled by bushfires, which damaged the nation significantly and affected many lives. The COVID-19 pandemic spread throughout the world, leading to widespread quarantining, sickness, and fear. In May of 2020, a man by the name of George Floyd passed away whilst restrained by police, who kneed his neck and made him unable to breathe in an act of racism.
In short, 2020 has been an extremely tumultuous and momentous year. Personally, I feel discouraged and concerned about the future. With such a tragic year, it can be easy to lose hope. What will happen next? Why is all this happening?
Despite the challenge, it is vital to remain hopeful. Collectively, we must recognize the difficult experiences at hand and work toward a better future. As the rising generation, we can use social media, the news, and our voices to strive for change. To take part in this, raise awareness for events going on in the world. Start discussions in your community, even if the topic is uncomfortable. Rather than deciding that the world is over, we must remain positive and strive for a beautiful tomorrow.
In the past months, I have seen positive movements and actions to learn from tragedy across the world, and it brings a smile to my face. The Australian bushfires have alerted us to the magnitude of forest fires as well as climate change, which contributes to this problem. The frightening and tragic COVID-19 pandemic has led to unified global measures and increased sanitation. In my community, I have seen countless fundraisers and organizations working to help those struggling with job loss and food insecurity. Across the world, people have organized specific times to cheer and clap for health workers, who work tirelessly to help those with the virus. In the United States, outraged and exhausted by systemic racism and oppression, people nationwide have protested to demand justice for victims of discrimination and change for the future.
All hope is not lost. In maintaining hope for a greater future, we can promote positive actions and responses. Working together as a globe, the future looks bright and beautiful. This tragic "earthquake" of 2020 has shaken us to the core, yet as our world crumbles around us, we must rise from the ruins and stand tall. We will not be knocked down.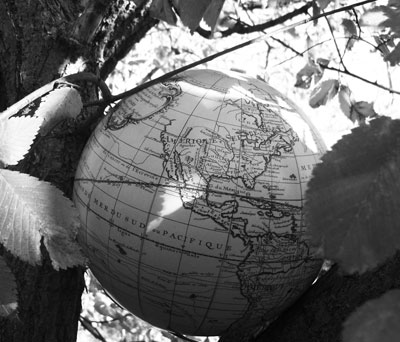 © Ella H., La Vista, NE