America
December 14, 2017
"America is a land of opportunity and don't ever forget it" (Will Rogers). Growing up in America, we tend to take advantage of opportunities and need to be reminded of how valuable they are. In America,  I can choose what job I want and to have an education. Daily, Americans are granted the opportunity to decide what we want to do with our lives without limitations, without having to worry about being able to go to school, or the consequences should we as young women decide to dedicate ourselves to a job that used to be considered just for a man. We can choose when and whom to marry unlike so many others.
Girls in America have an education, have a job. Malala got shot for trying to learn. In America, we don't have to worry about getting hurt for going to school. America gives many professions to choose from. In the 1900's, women could only have professions like a nurse, dressmaker, teachers, midwives, and a Domestic Service Worker. Men never thought a woman could become a doctor, lawyer, or even President. If a woman ever ran for president, it was because she was widowed and took her husband's place while running. We now have 46% of women are doctors, 41,000 women lawyers, and in 2016 we had a female Democratic nominee for President of the United States.
Women's rights started in 1848. Women believed they are equal to men. In 1920 women were given the right to vote. It took a while for men to give the right to women. Now women can vote for president every time. It took a while for men to accept women into the military. In the last two years of World War 1, women were able to become nurses in the military (1917); the last two years of World War II,  women were allowed into combat (1943). In America, women can be known for helping serve the country. Our veterans fought for our democracy. Many women showed that women can accomplish the impossible. These women are Molly Pitcher, Rosa Parks, Harriet Tubman. Molly Pitcher took over her husband's job when he collapsed. Rosa Parks stood up for her rights for a seat on the bus. Harriet Tubman took a risk and rescued her family and slaves in the underground railroad.
Imagine you have three kids, what would you do if you had to choose to keep only two of them. How would you choose? For women in China that becomes a reality. In China, there is a law that women only get to have two kids (1970). From 1970 to 1979, women could have the first two children they birthed. Now, say it's 1980 in China, you have two kids. What happens when they bring the law saying you can only have one child? Women have been restricted to the right to have a certain amount of children for a while. In America, women can have as many kids as they want. We don't have to worry about a fee or having to choose a child.
Many girls dream to wear white while going down the aisle on their wedding day. She wants to be escorted by her father and to be awaited by her prince charming she's dreamed of her whole life.  For some girls, that happens a little too early. Many girls throughout the world are getting married at the age of twelve through arranged marriages. Approximately seven million girls have suffered the consequences of child marriages. Child marriages means girls may not have good health and education. It exposes them to violence and poverty. In America, girls, get to walk down the aisle in white. In America, we can say "I do" to our Prince Charming.
While she is trying to cook supper for every body in her family, kids her age are complaining about their "hard" homework. While she is looking for the money to keep her kids, women are trying to keep up with her four children. While the twelve year old is crying while she walks down the aisle with a forty year old man, we are watching our prince charming smile at us. In America, we don't worry about making supper for the whole family, or how to choose a kid, or about walking down the aisle with a forty year old. In America, our Veterans died for our democracy. They died for our rights to vote or to work anywhere. They died so we can be free.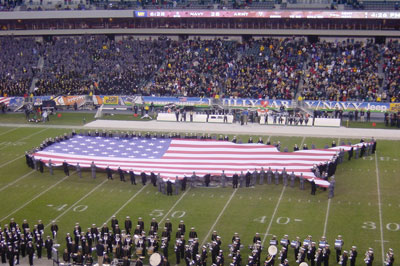 © Kristin B., Middletown, DE