My Body Imagine: August
August 2, 2012
I wish I had a different cowlick. It doesn't swoop. Who wants a cowlick that doesn't swoop? I looks unnatural and often wild. I just want to look simple; clean. I detest my cowlick.

I wish I had a different eyebrows. Something more sculpted. Something more visible and chic. They're like bushy little blonde caterpillars. I detest my eyebrows.

I wish I had different pores. You could mistake me for a deep fryer from all the grease that comes off my face during the day. I'm sure more grease than you would find on a cheese pizza. Not to mention how much it feeds my acne. And I (apparently) have some hungry little pimples. I detest my pores.

I wish I had a different nose. Mine looks like a path with all it's different twists and turns. Noone is traveling down that path. Why can't it just be straight and less bulbousy? I detest my nose.

I wish I had different teeth. My front two teeth look like they are constantly hugging. It's sweet that they are so friendly with each other, but it really puts a damper on my smile. I wish they would be a tad less affectionate. My mouth does not appreciate the pda. I detest my teeth.

I wish I had a different chin. It's horribly square. Almost like the end of a box of tic-tacs. I have a tic-tac box for a chin. Yep, I detest my chin.

I wish I had different arms. If I was a redhead they would look like the limbs of an orangutan. Except less slender. I detest my arms.

I wish I had a different stomach. I have more than enough love rotating around my hips. I look like a lumpy hourglass. Not in the least bit attractive. I detest my stomach.

I wish I had a different butt. Mine is like pancake, except not edible. And isn't that the best part about a pancake? Not to mention you can't add chocolate chips or blueberries to my butt. Well, I'm sure you could.. but for what reason? I don't think there is one. Anyways, I detest my butt.

I wish I had different legs. They look like thick, misshapen, tree trunks with several nicks in them. Sure every scar has a memory, but none of mine are worth remembering. I detest my legs.

I wish I could say that I liked the way I looked, but clearly I can't. I detest my low self-esteem.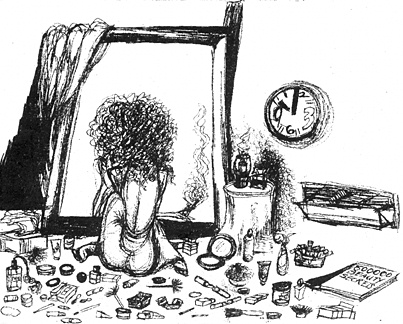 © Asha M., Philadelphia, PA