Me is OK
November 8, 2010
You know what it's like when you're a kid. You want to be everything when you grow up, from a fashion model to the next president. And if your imagination gets even better than that, you'll not want to wait till you grow up to become all that.
I've been there; i've done that. The one thing I really wanted to be was famous. I didn't care how. I'd invent something huge like a car that runs on juice. Or i'd do something heroic. Rescue a dying person as they hung helplessly over a cliff. Risk my life to save a drowning child. Single-handedly foil some kidnappers and rescue their abductees.
Of course, I never considered the impossibilities to these fantasies. Like the fact that I can't exactly climb a cliff (i can barely climb a tree) and if anyone would drown it would most likely be me.
When I did, I changed my mind and decided to become famous the good-old-fashioned way. Singing, acting, looking good, or throwing away my dignity...whatever worked.
I looked up to every celebrity. and I envied their success. I made up my mind to be just like them when I grew up (if not before).
Then I grew up and I saw life for what it really is.
Whether or not you spend it living large and sitting pretty, making millions or making history, being the best or the most-famous...or just sitting here, writing out your thoughts to a person you don't know; someone who's life you know nothing about and haven't any business in and yet you want to enrich it...(where was i?)...the greatest gift you could ever get, the greatest feat you could accomplish isn't in your tomorrow. It's your now. What are you right now? What are you doing? Where are you going? Who are you? Insecure? Madly-in-love? Happy and content? Dissatisfied and restless?
I, at this very moment that I write what I am at this very moment am all of the above. But I still have hope and I'm on the right road because I am me. And me is ok with me right now. Hopefully, it will be the same tomorrow and the day after that and forever. But if it isn't I won't forget today. Today as me.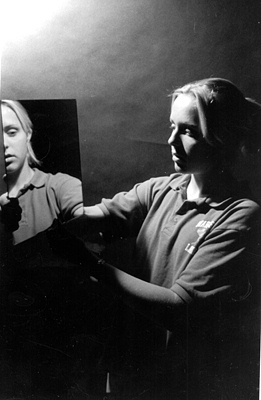 © Hadley B., Marblehead, MA