25 Things to Do While You are Still Alive
April 17, 2010
1. Forgive your parents.

2. Give your mother a dozen roses and tell her you love her without getting sappy.

3. Tell your father he's cooler than Chuck Norris.

4. Tell someone that all you need is their smile.

5. Accept yourself and everybody else as they are.

6. Have a sit-down meal with someone at 3 am.

7. Get a ladybug to walk on your fingers.

8. Draw something that would be worthy of getting tattooed on your body, even if you don't want any ink.

9. Travel.

10. Spend the night at somewhere "haunted". Earn extra points for going alone.

11. Play in the rain.

12. Build a snow creature.

13. Find the grave of someone whose work admire.

14. Catch a firefly.

15. Jump into a natural body of water, with or without clothes.

16. Plant a tree.

17. See an eclipse, lunar or solar.

18. Go swing-dancing.

19. Sleep under the stars.

20. Spend the night on a beach.

21. Play with fire.

22. See a play.

23. Quote somebody's favorite movie to make them smile.

24. Write a love letter on the back of a napkin.

25. Write your will like you will die in a week.



There they are. 25 things to do. I just gave you the majority of my own list, with a little bit of editing. Now go outside, life will pass you by if you spend all your time on the computer.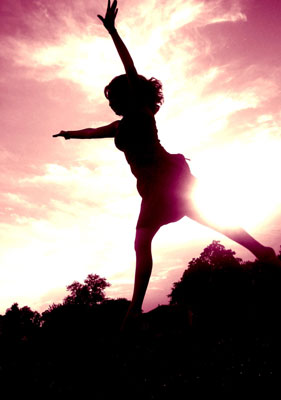 © Martha V., Morton Grove, IL