Igor Stravinsky
May 22, 2009
Igor Stravinsky used rhetorical strategies such as references to politics, imagery, repetition, and speaks with a sarcastic tone throughout the entire passage to convey his view as a composer on orchestra conductors.

Right off the bat, Stravinsky makes a reference from conducting to politics. "Conducting, like politics, rarely attracts original minds…" Immediately the reader is aware of his view on conductors from this quote; he doesn't like them. Composing needs an "original mind," unlike the conductors who simply guide the music. No conductor is different, in the way he or she portrays the composer's music. They form no new ideas, and they continue to use old and more traditional ways. The conductor really has no musical talents at all; he is "unable to play anything but himself."

In the second paragraph, Stravinsky provides imagery of a "tropical weed under the sun of a pondering public" in order to make the reader see the tropical weed grow under this bright yellow-orange sun then realize that the audience is really the sun, and the reader is on stage, in plain view of the enormous amount of people. The conductor is the "tropical weed" but referred by the newspapers as "the titan of the podium." But what makes this conductor a "titan?" Unlike Stravinsky, the conductor did not create the music that everyone came to hear.

To portray his view of conductors even further, Stravinsky uses the word "great" repetitiously. "Great" is used four times in quotations to develop a more sarcastic tone towards the subject. Stravinsky makes a reference to actors to form a list of what conductors are unable to do, "unable to play anything but them, unable to adapt them to the work." Why are the conductors so praised when they can't really do anything?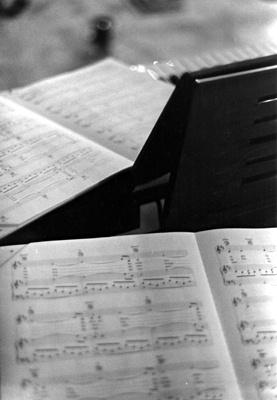 © Jessica M., Lansdale, PA