Sadistic Vampire
November 30, 2011
Summary:
His eyes shot open and he found himself gasping for air. He couldn't remember what had happened. It was only after seeing the cold, lifeless body of his dear sister that it hit him. He should be dead. He had plunged a dagger through his very heart. He cursed the sky and God. Even in death, he was denied the right to be with her. He touched her cold hand to his cheek and wept for his lost loved one.

This is where the story of an unfortunate couple turns into one of horror. After laying her to rest, the young man returned to the villa, his former home. It was a dark night, the prelude to a storm as he entered the window of his old chambers. Thats when everything went red. When he finally snapped out of it, his face was stained with blood and the members of his house, all dead. His face was not the only thing stained with blood, his shirt was as well, where he had tried to stab himself afterwards.

He had been cursed with immortality. No matter how many times or ways he tried, he could not die and he thirsted for the red liquid he had spilled from his former loved ones. He had become a demon known as a vampire.

He continued to stay at the mansion, which tortured him with memories of the happy moments he shared with his sister. For many years he tried to keep face, trying his best to be human and interact with society, but he soon lost interest and gave into his terrible nature.

It is rumored that he still dwells there, awaiting the blood of the girl that could set him free of his curse, the blood of one identical to his beloved. Now, young women are loured into the forests, tempted by charm of the handsome young lord, only to become a meal to satiate his appetitte. None of these girls are ever seen from again...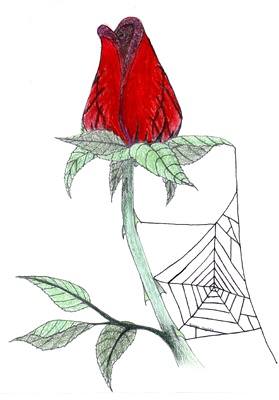 ChainedWings
Sadistic Vampire