Easter Island; Mystery in Paradise
February 7, 2016
Easter Island; it is a miniscule, isolated island, anchored in the South Pacific Ocean. This travel destination is one of the few hot spots left untarnished by an overdose of commercialism. It is one of the youngest inhabited territories on the planet; that's quite a claim to fame. The island's rich history often attracts travelers, near and far. The island is not only covered by natural flora and fauna, but it's shrouded in a dense cloud of mystery as well.
Though the island was inhabited as early as 400-1200 CE, its history trails backward much further than that. The Rapanui people arrived within that large time gap (400-1200 CE) and there are a variety of explanations and guesstimates discussed amongst scientists. Unfortunately, no one has really been able to pinpoint a reasonable time period. Europeans found the island in 1722. The first inhabitants are most likely descendants of Polynesians, or Incas, but opposing theories have been created. On the island, there are multitudes of peculiar stone carvings. These stately statues (called moai) are sprinkled around the perimeter of the island; it's as if they are greeting their guests.
Imagine, a sparkling, sandy landscape, with shells and mystery scattered along the serene shores. A place, not only filled with marvels, but friendly locals, and adventures. It may sound like a mirage, however, Easter Island matches this mental imagery perfectly. An abundance of natural wonders are in vicinity, wherever you may be on the island. Sizzling volcanoes grumble in the distance, caves tower over explorers, and moai "stroll" out of quarries (more about that later).
The Moai, statues covered in secrecy, can weigh over 5 tons. Shockingly, the largest moai (32 feet tall), ever uncovered, weighs in at an astounding eighty tons. While this miracle is phenomenal, one can't help but question,"How did they get there?" Honestly, there is no one true answer as of now. For the logical thinkers, worry not, there are a few theories. Since these statues (essentially, boulders) could not be propelled by work animals or machinery, other methods had to be used. Rolling, and walking were among these purported strategies. In 1987, Charles Love and a group of 25 workers used a wooden sled to move a nine ton, thirteen foot model of a moai. Another theory, "walking" the statues was proved unsuccessful by Thor Heyerdahl and Pavel Pavel, two explorers/scientists. Thankfully, in 2011, Terry Hunt of the University of Hawaii and Carl Lipo of California State University retried the experiment. They built an average moai model and got to work. By pushing the statue back and forth, the group got the moai to wobble at a smooth pace. It was decided that the original version of this experiment was conducted incorrectly. Technically, both theories, walking and rolling, are scientifically viable.
This island is rich with history, sights to see, and mystery. It is rare to witness such a place in which these characteristics appear so vivid, and alive. Start packing your bags, and get ready for the adventure of a lifetime.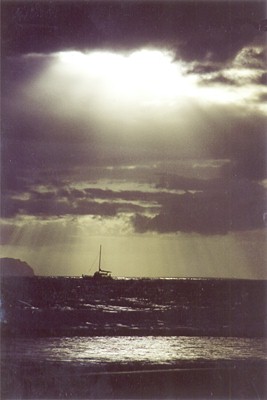 © lily H., Kekaha, HI